Not Just Clowning Around: Kevin Compare and His Bag Full of Tricks
By Staff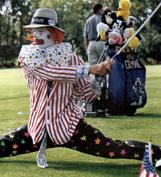 ORLANDO, FL - PGA teaching professional Kevin Compare can speak. By way of the ancient ruling body that governs such things, his sidekick Divot the Clown cannot.
Compare and Divot are one in the same, but through "their" traveling showcase of trick shots, the "two" have developed some unique personality traits.
"I am much more serious than Divot," Compare says, laughing. "Some people want to see me, others want to see Divot. Either way, I am happy."
As Compare should be. Through this golf instruction circus act, he's accomplishing a life-long goal of teaching people the game of golf. He's also taking pleasure in a newfound talent for taking some of the seriousness out of the game.
"Hey, this can be a serous endeavor, this game, because of the time and money it takes to play," he says. "But this isn't life or death."
And despite the makeup and the red nose, Compare has to be taken seriously when it comes to golf instruction. As the Head Golf Instructor at PGA Learning Center in Port St. Lucie, Florida, Compare has taught hundreds of professionals and amateurs the game of golf.
Back in 1984, Compare's professional life was forever altered by a bunch of youngsters and an absentee vote.
"We were going to be teaching the game to some kids, some juniors and we had a professional script writer who told us that we'd have to have a clown in order to keep the kids interested," Compare says. "I was the only one that wasn't there when they voted on who'd be the clown, so the rest as they say, is history."
Their 18-year history has taken Compare (and Divot) to 45 states and six different countries, where the duo's trick shot routines have become the stuff of legend. As one might expect, these partners in crime have run into some interesting situations during their travels.
"When I am Divot, I have an emcee prompt me for my tricks," Compare says. "Well, the first time I took the show to the Dominican Republic, the emcee for the show only spoke Spanish, so I had no idea if I was doing the right tricks. Everyone was clapping, so I guess I was close."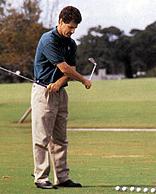 During one trip to North Carolina, Compare and Divot where asked to move their show from the practice range of the golf course to the patio of the clubhouse, a request that even caught the normally open minded Compare off guard.
"We were hitting our shots off these mats on the board walk into a lake, and that was a very, very strange request, but no doubt good for the golf ball salvage industry," says Compare (pictured).
From cocktail parties to corporate outings, the bizarre requests keep coming, and Compare and Divot aren't about to turn anyone down.
"We haven't run up against the gig we couldn't handle," says Divot, er, Compare.
At the PGA Merchandise Show in Orlando last week, Compare, er, Divot, stood in front of his booth, greeting everyone that walked by with a handshake and a toot of his horn. After all these year together, it's getting hard to tell the two apart.
"I am better looking," says the voice from the painted mouth.
Who said clowns couldn't speak?
For more information on Kevin Compare and Divot the Clown, visit the PGA's website at www.pga.com.
January 28, 2002