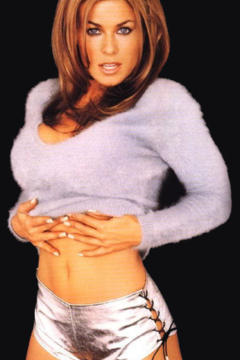 Dennis Rodman says it was hard being married to Carmen Electra and hard not being married to her. (Courtesy photo)
As The Worm Boogies: The Dennis Rodman school of partying

By
Chris Baldwin
,
Contributor
This is the first in an occasional series on how celebrities party in a major golf town. It brings us the unlikely pairing of NBA bad boy Dennis Rodman and leisurely Palm Springs.
PALM SPRINGS, Calif. - Sizing up the pierced nose, the tattoo-eclipsed neck and the sunglasses at night, the middle-aged man in the golf windbreaker has one question for Dennis Rodman. It's the only question appropriate for the NBA rebounding savant with the "bad as I wanna be" persona, the guy probably figures.
"Staying out of trouble?" the windbreaker man asks/demands.
"I'm in Palm Springs, ain't I?" Rodman delivers in perfect deadpan.
The man has no comeback for that. He laughs a little nervously, unsure if he's in on the joke or the butt of it. Finally, he just backs away from the table. Rodman turns around his chair and grins at his bodyguard/manager (yes, this is one person in Rodman's new world) and his high-end cigar supplier.
Rodman is here, of all places, to promote his third book, the one that has him posing on the cover with the Grim Reaper. He makes fun of the place where Frank Sinatra still makes news (the local paper ran photos of fans at Sinatra's grave on Ol' Blue Eyes' birthday) and a Gerald Ford hospital checkup generates wall-to-wall, in-depth coverage. But before the night's done, Rodman is certain he'll find fun in the laidback desert oasis.
"That's what I do," Rodman says, shrugging. "If there's not a party, I'll make one."
This is why every third person who comes up to the outdoor table where Rodman's signing asks where he's going tonight. Some outright beg. "Come on man," a thirty-something man in a Lakers jersey pleads. "Give a brother a break. Let me know the spot."
"Every night," Rodman says. "People are bugging us with that every night."
"We don't do the entourage thing anymore," Thaer, the bodyguard/manager adds. "It got too expensive."
Rodman shakes his bandanna- and hat-covered head.
"But we still end up with one every night. All these fools following us around from place to place. We don't invite them. They just come along."
That's the price of carrying a rep, a well-deserved one, as the craziest, most publicized party animal in the world of sports, entertainment and reality TV. Rodman may have been one of the most unique game-changers in NBA history, an unparalleled student of rebounding angles, but that's not why he's mobbed in China.
"It's even 10 times wilder for us in China," Thaer says. "People were running over the barricades the police set up at his appearance. They didn't have enough police to keep the crowd back."
No wonder. At 44, Rodman is essentially a professional partier. Not in some frat-boy, can't-grow-up sense. He actually gets paid to party. For him, it really is a 9-to-5 job. 9 p.m. to 5 a.m.
Golden Palace - the same online casino company that recently forked over $25,000 for William Shatner's kidney stone - pays Rodman to be Rodman and go from event to event. He's run with the bulls, got invited to stay at the $50,000-a-night basketball suite at the Palms for free, appeared on Jerry Rice's new reality show, danced through Carnival in Brazil.
Could there be anyone better to give BadGolfer.com readers the lowdown on where to find delicious trouble on a Palm Springs golf trip?
"Golf?" Rodman asks, throwing his head back with a look of incredulity most people might reserve for a grown man in a full-length white wedding dress. "Are you kidding me? I don't golf."
"He does surf," Thaer offers helpfully. "Not very well. He's the worst surfer in the world. But he does surf."
So Rodman's better-versed in pythons (former pets) than putters. You're not asking him to critique your swing. You're relying on his nightlife expertise to open up the world of Palm Springs. And when it comes to this kind of swinging, Dennis Rodman is a veritable Hank Haney.
The Digs
A Rodman-worthy party plan starts with the right home base. You need that jamming hotel room in case - or with Rodman, in certainty - that even after you close down the last hot spot, the adventure must go on. Space is important. A big bed is important. But not as important as the hot tub.
Rodman finds his hot-tub nirvana in a suite at the old-school, underrated Palm Springs Riviera. This place has black-and-white photos of Sinatra and Hope on the walls and a man with an orange/yellow hair-dye combination in its best room.
The personal outdoor hot tub connects to the room through a side door, fenced in to stymie any prying eyes.
And believe it or not, Rodman, Mr. Self Promoting Genius, hates prying eyes.
"The cellphone camera is the worst invention ever made," he sighs.
It doesn't hurt that there is a Jacuzzi in the gigantic bathroom too. Along with a TV, in case ... well, in case you want to impress the kind of girl who's impressed by a TV in the bathroom.
Carmen Electra?
"No comment," Rodman says, before commenting on one of his ex-wives. "It's hard being married to her and hard not being married to her. Our best room was the bedroom."
Rodman's philosophy toward selecting where he stays is much simpler.
"Whatever they hook me up with, man," he shrugs.
Yes, Rodman's set up in a huge Riviera suite gratis.
Frank Sinatra and Dennis Rodman would be cool after all.
You're probably not going to be able to pull the gravy-train bit. Heck, Dabney Coleman can't get the free ride roll anymore. But by going through a golf packager like Tim Hurja of Palm Springs Golf Vacations, you at least hold a decent chance of getting a nice room upgrade.
"Anything we can do to make the golfers happy," Hurja says. "I know the rooms in the hotels and I'll work to get you a good one."
Essential Nourishment
Dinner? Please, we're not talking dinner. At least not yet. What must be secured first in Rodman's world are some high-end cigars. Think embargoed-country-quality cigars.
Rodman gets his from a local Serbian who hand-delivers. For the rest of us, there's Howard's Hollywood Hangout, a cigar shop right on Palm Canyons Drive - the main street in downtown Palm Springs - with a sitting areas with huge stuffy leather chairs where you can puff away to your heart's content. In California. (Howard's also gives 10 percent off to those with a Screen Actors Guild card, which Rodman has for his unforgettable roles in movies like Simon Sez.
Cigars in hand, Rodman can now turn to food. Kaiser Grill emerges as the logical choice because it's close, relaxed (guys in suits next to guys in shorts), serves good-to-excellent food and has an outdoor patio area where the common folks can chill while you kick back in a big booth in back.
Well, for those reasons and the fact that one of the waitresses comes over to Rodman's signing table and invites him over for a meal on the house.
Get with it. You're living the cartoon celebrity life. That's how we roll.
Dissing Strippers
Sometimes you have to turn strippers down. Even when they're personally inviting you over. Make that begging you to come over. Especially when they're begging you.
That's what Rodman does when two buxom women - one older than him, one young enough to be his daughter - lean over the table and put their best assets forward.
"We promise you'll have a good time," the older one drawls. "You won't forget Palm Springs if you come over and see us."
Rodman is as polite - and noncommittal - as can be. Just like he is unfailingly polite to the graying transvestites who stop by (you never realize Palm Springs has so many transvestites until you hang out with Dennis Rodman).
But back to the strippers.
Rodman never moves behind the shades. When the ladies step away from the table, he finally talks.
"I like hanging out with strippers," he says. "They're good people. But they better be 10s. Not an option."
Instead Rodman heads over to Red 74 in an Escalade (if you want to be a celebrity partier, you'd better rent an Escalade with windows tinted so dark it's like trying to stare into a black hole). Red 74 is a nightclub in Palm Desert that's heavy on red decor (surprise) and coeds willing to dance with you like strippers.
If you're Dennis Rodman.
A woman in a skirt short enough to qualify as a thong asks Rodman how many girls he's been with at one time.
"All together in the same bed?" Rodman says. He leans back, ruminating on it like a regular guy would try to recall the most pizza he's ever eaten one sitting. Who can keep track of something so ordinary?
"Probably five," Rodman finally answers. "Yeah, five."
The woman leans over, whispers something in Rodman's ear. He flashes a smile.
The final lesson of the night will come later when the entourage is built and Palm Springs is shutting down.
"Tijuana, Mexico?" Thaer asks.
"Yeah, Tijuana," Rodman nods.
Partying as a professional requires improvisation. On to Tijuana.
What, you never thought of Tijuana as a Palm-Springs-golf-trip party suburb?
February 13, 2006
Chris Baldwin keeps one eye on the PGA Tour and another watching golf vacation hotspots and letting travelers in on the best place to vacation.