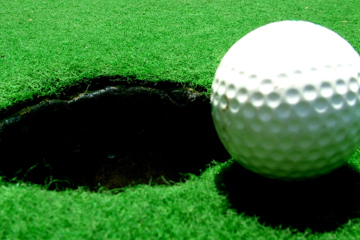 Billionaires will tee off from an advantageous position at Al-Bush Golf Course and Country Club in Saudi Arabia. (Courtesy photo)
Report: George W. Bush to design golf course in Saudi Arabia

By
William K. Wolfrum
,
Contributor
In slightly less than a year, U.S. President George W. Bush will be looking for a job. He's said in the past that his plans include hitting the speaking circuit so he can make some quick money. But would that truly fulfill a man who has held the world's most important job?
Apparently not, because while ally Tony Blair has accepted a position with investment bank JPMorgan, team Bush has announced that he will now get into the world of golf course design.
Following his trip to the Middle East, it has been learned that on Jan. 23, 2009, Bush will begin work on his first golf course design, which will be a sprawling layout in Saudi Arabia. While some question whether Bush is qualified for golf course architecture, an anonymous spokesman said that should not be an issue.
"He didn't have any experience running the U.S., and you see how that worked out," said the spokesman. "The golf course design will be fantastic. The Saudis are thrilled."
Bush, known for his love of sport and his fondness for speed golfing, apparently worked out the deal while begging Saudi King Abdullah to lower oil prices. The course will reportedly be called "Al-Bush Golf Course and Country Club" and feature a 10-million-square-foot club house designed by the same firm currently working on the U.S. Embassy in Iraq. Bush will join such stars as Tiger Woods and Ernie Els as golf course designers working on Middle Eastern layouts.
"This will be an excellent golf course," said a spokesman for Bush. "It will really give long-hitters a chance to bomb them from off the tee. Get it?"
The course will be unique in that it will use the "trickle-down" theory of golf and economics. Golfers with incomes under $1 million a year will start from the back tees, where the course will play to a total of 7,911 yards and a slope rating of 164. Golfers with an income of more than $1 million a year will start from the blue tees, which will play to 6,500 yards and a slope rating of 120.
Billionaire golfers will start each hole from the gold tees, located six inches from the cup. Overall, the gold tees will play out at three yards, with a slope rating of 18.
Those with incomes of $100,000 or less will not be allowed within five miles of the course.
"This is a new, American way to play golf," said a Bush spokesman. "Everybody will see billionaires drilling ace after ace, and they'll want to up the level of their games to compete. It's a proven system."
While the spokesman has said that Bush will not comment publicly on the new design project, it's reported that the president is thrilled to go out and "get his hands dirty." Still, many expect Bush's vice-designer Dick Cheney to do the majority of the work, something the spokesman denied.
"From his home in Galveston, Texas, he will be in control of all aspects of the course design," said the spokesman. "He truly has a vision."
The spokesman added that Bush and the Saudis would like to see the course host a PGA Tour event, and have set their sights on the U.S. Open.
"Saudi Arabia is a vital part of the United States and a close friend of the Bush family," said the spokesman. "We feel the USGA would be remiss to overlook Al-Bush."
The groundbreaking is expected in February of 2009, with a tactical "bunker-busting" nuclear device - part of a recent $20 billion weapons "gift" from Bush to Saudi Arabia - set to clear a large area outside Riyadh.
February 6, 2008
William K. Wolfrum keeps one eye on the PGA Tour and another watching golf vacation hotspots and letting travelers in on the best place to vacation. You can follow him on Twitter @Wolfrum.