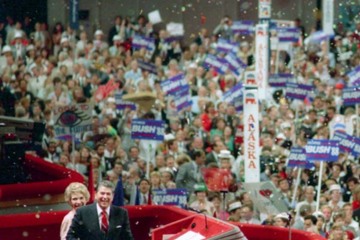 There may not be a Ronald Reagan in the Golfer Supremacy Rankings election, but expect the winners to celebrate anyway. (Courtesy photo)
Golfer Supremacy Rankings fixes this election once and for all

By
William K. Wolfrum
,
Contributor
Here at the Golfer Supremacy Rankings we had to give up our experiment with using Diebold Voting Machines because we kept having George W. Bush ranked as the No. 1 golfer in the world. That, plus hanging chads on punch ballots made our rankings a miserable failure for quite some time.
These days, however, we do things the old-fashioned way - we tell you who the winner is, and you have no choice but to accept it. After we decided to model our own rankings system after the 2000 U.S. election, things have gone very smoothly, with the small exception of the time we accidentally attacked Syria. Let us tell you, when you're a golfer ranking organization and you attack a sovereign nation ... well, it sort of hurts your reputation among the non-neo-conservatives. Bill Kristol and Joe Lieberman just freakin' loved us, though.
So as voters around the nation head to their polling stations to cast their votes (in some cases numerous times), we have decided to show our appreciation for Barack Obama and John McCain by holding our own election here at the Rankings.
Yes, our polling is done and the votes are in. And then, as we are prone to do, we ignored the polling and the votes and made all the decisions ourselves. Nonetheless, the political process truly works. So sit back and enjoy our own special election results, if golfers ruled the world (as we all know they should).
Most Supreme Golfer on the Planet
• George W. Bush
Comments: Oops. We still had the Diebold system hooked up. Please disregard.
President
Comments: It's the Irishman in a landslide. Like a certain presidential candidate whose name rhymes with Shmarak Shmobama, Harrington has the perfect combination of temperament, intelligence and skills. With golf's dictator Tiger Woods sidelined with a knee injury, Harrington emerged as a landslide victor, winning the British Open and PGA Championship to take his career major total to three. At 37, Harrington will be a force for some time to come and will surely do wonders to help the golf economy.
Vice President
Comments: Kim may just be the future of the Golfer Supremacy Rankings Party. Young and strong, the Los Angeles native showed that, unlike a certain vice-presidential candidate with a name that rhymes with Shmarah Shmalin, he can learn quickly and has a natural intellectual curiosity when it comes to being a golf superstar. With two PGA Tour victories and a smashing Ryder Cup win over Sergio Garcia, Kim has matured and transformed himself from young party guy to young phenom. In 2012 Kim will be 26, and could very well be ready to lead this golfing nation.
Speaker of the House
Comments: Sabbatini has a lot to say, but in 2008 he failed to back it up. Kind of reminiscent of a certain speaker of the house with a name that rhymes with Shmanc ... oh, never mind, you probably see where we're going with this. Despite a year that saw his scoring average jump by a stroke, Sabbatini remains a rare breed of golfer - one that speaks his mind, damn the consequences. Like Shmelosi, however, the South African better pick up the pace in 2009 or risk being replaced.
Secretary of Defense
Comments: Singh sucked the drama right out of the FedEx Cup, winning the first two events - The Barclays and the Deutsche Bank Championship - then going on the defensive, finishing 44th and 22nd in the next two events. Still, Singh was an easy winner and showed that he's not close to being finished as a top player on the PGA Tour. And the fact that he may have single-handedly destroyed the FedEx Cup (when was the last time you heard it even mentioned) means that regardless what he does the rest of his career, he will always have a place in our hearts.
So there it is folks, our own Golfer Supremacy Rankings election results. Now get out there and vote in the big election. And while we here at the GSR are non-partisan, we do feel as though we can say one thing about whoever the next U.S. president will be - we're pretty glad he won't have a name that rhymes with Shmush.
November 3, 2008
William K. Wolfrum keeps one eye on the PGA Tour and another watching golf vacation hotspots and letting travelers in on the best place to vacation. You can follow him on Twitter @Wolfrum.