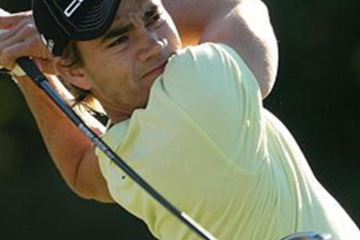 Camilo Villegas has the game, the name, and the hotness to be a PGA Tour superstar for a long time. (Courtesy photo)
From Creamer, to Kim, to Villegas, the kids are all right at the Golfer Supremacy Rankings

By
William K. Wolfrum
,
Contributor
Here at the Golfer Supremacy Rankings, we pride ourselves on being young and hip. We wear our pants around our knees. We surf the intertubes and use the Google. We occasionally get a pimple. Yes, we not only know what young people think, we think what young people think. In fact, we're jamming to some killer jams from the Jonas Brothers at this very moment.
Yes, we are kids at heart here at the Rankings, and it's a good thing, because these days, professional golf is in the midst of a youth movement the likes of which we've never seen. On the PGA Tour and LPGA Tour, young guns have picked up their game - and their time is now. With Paula Creamer, Anthony Kim and Camilo Villegas leading the way, professional golf is now going through a baby boom that looks like it will last for the foreseeable future.
So slick back your hair, listen to some Backstreet Boys and enjoy some golf rankings, daddy-o. Because the times have changed and the kids are all right.
Golfer Supremacy Rankings
Comments: The Colombian-born Villegas had his breakthrough in 2008, winning the final two tournaments of the FedEx Cup for a No. 2 finish behind Vijay Singh. And not only is Villegas red hot on the golf course, he's just plain red hot, period. In fact, in a recent survey of Golfer Supremacy Rankings employees, we have found that Villegas is the hottest human being alive. Plus, here's how you pronounce his name: Ka-me-low Vee-jay-gaas. Seriously, how cool is that? Golf Channel, take note, Villegas is in desperate need of his own reality show.
Comments: Creamer has already been around long enough to be considered a grizzled veteran. And she's still just 22, and let us tell you, there's nothing at all grizzled about the Pink Panther. With eight career victories, the 2005 LPGA Tour Rookie of the Year has shown that she knows how to win. And while some have questioned her killer instinct, her performances in the Solheim Cup have been out of this world. Add to that her recent victory at the Samsung World Championship, and it's getting obvious that Creamer will be haunting World No. 1 Lorena Ochoa for some time to come. With her youthful good looks, her strong game and great personality, Creamer should have the LPGA in the pink for a while.
3. Anthony Kim
Comments: Kim burst onto the professional golf scene in 2007, impressing the entire globe with his fierce game. But Kim had a reputation as a party guy (which makes him even cooler in our book). Then, one day Kim showed up at a tournament after a night on the town and walked past Tiger Woods, who was finishing his early practice routine. The message hit Kim instantly - if this is the guy I want to catch, I better get as dedicated as he is. In 2008, Kim has notched his first two career victories and moved to No. 6 on the PGA's money list. He also played a vital part in the United States' dramatic Ryder Cup victory. For Anthony Kim, growing up has been quick and painless, and the University of Oklahoma standout looks ready for golf superstardom in 2009.
4. Dustin Johnson
Comments: The 23-year-old Johnson has turned a solid rookie year into a strong one by winning the Turning Stone Resort Championship in New York. The South Carolina kid had two early top-10 finishes in 2008, but turned it up in New York to become a first-time winner. Young, strong, good looking and tall enough to dunk a basketball, Johnson epitomizes the youth movement that has given the PGA Tour the jolt it has needed.
Random Quote: "Mark my words, Tiger Woods could one day run for president if he wanted to. He is the most well-known athlete in the world and by the time his career is over he'll be one of the most recognizable men on Earth. ... If Ronald Reagan could become president then so could Tiger." - Gary Player.
October 8, 2008
William K. Wolfrum keeps one eye on the PGA Tour and another watching golf vacation hotspots and letting travelers in on the best place to vacation. You can follow him on Twitter @Wolfrum.