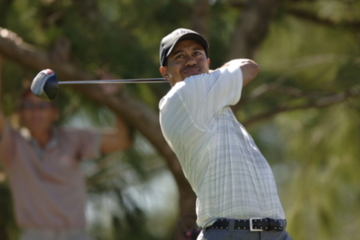 Is this Tiger Woods or Brian Gay? We'll let ESPN's Jason Sobel be the judge. (Courtesy PGA of America)
ESPN's Jason Sobel's hyperbole kicks Golfer Supremacy Rankings into overdrive

By
William K. Wolfrum
,
Contributor
Here at the Golfer Supremacy Rankings, we're all about hyperbole. That's why we can say without a hint of immodesty that we are by far the greatest golf rankings system in the history of the known, and very likely unknown, universe.
And that's also why we're thrilled to see ESPN golf writer Jason Sobel lose his mind over Brian Gay's 10-shot victory at the Verizon Heritage. Comparing Gay's victory to great triumphs by Tiger Woods and Phil Mickelson is the type of rampant hyperbole golf needs.
Sure, Gay has never actually played in the Masters, but his victory at Harbour Town Golf Links was every bit as impressive as anything Tiger has done at Augusta, if not 100 times more impressive.
So we here at the GSRs want to welcome Sobel to our land of wild, occasionally irresponsible hyperbole. Make no mistake about it - he is the greatest golf writer in the history of the planet.
Golfer Supremacy Rankings
1. Brian Gay
Comments: All hyperbole aside, Gay's performance at the Verizon Heritage was downright stellar. Gay set a scoring record at Harbour Town, made only two bogies all week and made a mockery of the competition to earn his second career PGA Tour victory.
All in all, a fabulous week for the 37-year-old Gay, who earned himself an invite to the Masters for the first time as well as pocketing a seven-figure winner's check.
Still, while Gay's victory was dominant, not all double-digit victories are created equal, so we may wait a bit before we start comparing Gay to Tiger and Lefty.
2. Brenden Todd
Comments: Just 23 and having just had a cup of coffee on the PGA Tour (six tournaments with three cuts made), Todd may not have the normal resume for this rankings system, but last week he showed his own supremacy.
Playing at the Athens Regional Foundation Classic, the Pittsburgh native and University of Georgia graduate aced the same hole in consecutive days. Todd twice aced the 147-yard, par-three 17th at the Jennings Mill Country Club in Bogart, Ga.
"I guess it's like catching lightning in a bottle," said Todd. And we guess that it was a pretty supreme feat.
3. Michelle Wie
Comments: Here at the GSRs, we've made untold millions writing about Michelle Wie, in good times and bad. But right now, things are quite bad.
It's been reported that Sony has dropped its sponsorship of Wie, costing the starlet a cool $5 million a year. Plus, her game is just a mess.
"On the course over the past week, it was more struggling for Wie, who barely made the cut in the LPGA of Korea's Lotte Mart Women's Open, shooting 77-75 in the opening two rounds. Wie improved to a 71 in the final round, but still managed only a 36th-place finish," writes Brent Kelley of About.com.
But we aren't here to pile on. Our careful calculations tell us that the talented teen will soon resurface. And our brand-new, state-of-the-art prognostication machine guarantees us that she will be in the winner's circle soon on the LPGA Tour. So buck up, Michelle, good times are on the way.
Random Hyperbolic Explosion: "This wasn't just a victory; this was pure domination, the kind we've become accustomed to witnessing only from the likes of Tiger Woods and Mickelson and only on the most seldom of occasions." - Jason Sobel on Brian Gay's 10-shot victory at the Verizon Heritage.
April 21, 2009
William K. Wolfrum keeps one eye on the PGA Tour and another watching golf vacation hotspots and letting travelers in on the best place to vacation. You can follow him on Twitter @Wolfrum.