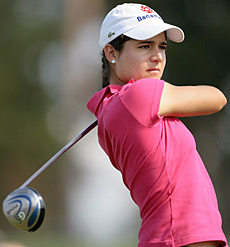 Lorena Ochoa's win at the Women's British Open proved she's the best female golfer in the world. (Courtesy ladieseuropeantour.com)
Golfer Supremacy Rankings praise Lorena Ochoa and Tiger for wins, Gulbis for existing

By
William K. Wolfrum
,
Contributor
Here at the Golfer Supremacy Rankings, we are a demanding bunch. We expect the very best from the golfers we rank, and if they let us down, well, we rank them anyway, but we act very snotty about it.
There was no letting us down this week, however, as some of the best in golf stepped it up with big wins. Lorena Ochoa and Tiger Woods both again proved why they are the best in the game, thrilling their fans to no end. Add to that the fact that some of the not-so-best in golf stepped up with a healthy smattering of ridiculousness, and this was nearly a perfect week for ranking golfers.
Golfer Supremacy Rankings
In fact, we've come to the conclusion that this week could only have been better if Natalie Gulbis had won something, so we could showcase her in a bikini again. Of course, there's a good chance we'll rethink that decision.
1. Lorena Ochoa
Comments: Four brilliantly played rounds of golf ended the argument once and for all - Lorena Ochoa is the best women's golfer in the world. Her victory at the Women's British Open at St. Andrews was nearly Tiger-esque in its ease, as she showed maturity to go along with her awesome skills. As competition goes, this is a great time for the LPGA - young stars like Paula Creamer and Morgan Pressel are coming of age; South Koreans like Jeong Jang and Se Ri Pak are always contenders; and veterans like Cristie Kerr, Annika Sorenstam and Karrie Webb are always threats to run away with tournaments. But with her first major in hand along with three other victories this year and 13 in her career, Ochoa is the undisputed best of them all.
2. Tiger Woods
Comments: Just a word of caution to little Sam Alexis Woods - don't give your Dad any lip. He has a penchant for punishing those that would slur him in any way. Ok, little Sam probably be able to get away with quite a bit. On the golf course, however, a little lip means Tiger will pull out the whipping stick. The latest victim - Rory Sabbatini. By calling Woods "beatable," Sabbatini unleashed the Tiger in Tiger, and Woods left the field at the Bridgestone Invitational is shambles, winning by eight strokes after a final-round of 65. So who wants to talk back to Tiger next?
3. Natalie Gulbis
Comments: Gulbis followed up her first career victory by finishing five-over at the Women's British Open, just 10 shots behind Ochoa. That's plenty for us. Bring on the sexy photos.
4. Jay Williamson
Comments: Sick of stinking up the joint at the Canadian Open, Williamson did the sensible and professional thing - he fired caddie Mike Mollet, mid-round. Mollet then took this as a challenge, so he upped the unprofessional ante by tossing some of Williamson's golf balls into a lake. Then Williamson played his final card for the victory - he grabbed some guy out of the crowd to act as his caddie the rest of the round. Game, set and match - Jay Williamson has proven he is one unprofessional golfer.
Random Observation: Steve Flesch, winner of the Reno-Tahoe Open, has the best "porn star" name of all professional golfers.
Greatest Reader Comment Ever: "I think the biggest differentiator between these two people is family. Tadd is out to help the family (is that any different than an early 1900's boy going into a coal mine to help his family) where Wie is forced into perfection by her idiot parents."
--WorldGolf.com reader "kampfy1" responding to a blog post by Brandon Tucker, comparing Michelle Wie and Tadd Fujikawa.

August 6, 2007
William K. Wolfrum keeps one eye on the PGA Tour and another watching golf vacation hotspots and letting travelers in on the best place to vacation. You can follow him on Twitter @Wolfrum.