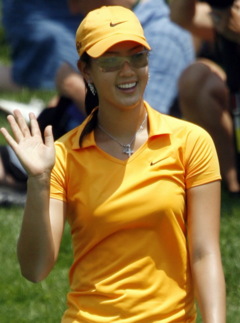 Michelle Wie's big weekend saw her waving at leaders 20 shots ahead of her at the Fields Open. (.)
Screw greatness, Michelle Wie is back! Now that's Supreme

By
William K. Wolfrum
,
Contributor
Greatness. It's a word too often used in the world of the Big Mainstream Media, of which we here at the Golfer Supremacy Rankings are a card-carrying member. But with Tiger Woods dominating the global golf scene, it's important to realize that he is one of the few humans on this planet where the word truly fits.
Of course, it's also important to realize that "greatness" isn't part of our rankings system here. We're the Golfer Supremacy Rankings, after all, not the Golfer Greatness Rankings.
That's why we're all just freaking out over Michelle Wie's performance at the Fields Open. She's back, people. Why, if she could have just sliced 21 shots off of her score, she'd have been the champion. And you know what that means: That the title to Jennifer Mario's book, "Michelle Wie: The Making of a Champion," would cease being a top seller at The Onion.
But here at the Rankings, wins and losses are just part of the equation. Champion or not, we know supremacy when we see it. And we see it every time young Miss Wie finds a new excuse for falling a few dozen shots off the pace.
Golfer Supremacy Rankings
1. Michelle Wie
Comments: Wie dropped off the public radar as she kept busy by going to, then not going to, Stanford. And promised to stop competing against men, unless she competes against men. And talks about her healed wrist, which will likely never be healed. But we're here to say that Wie Warriors need to rejoice, because their hero is back in action and looking just slightly less mediocre than when we saw her last.
After Wie shot an opening round of 69 at the Fields Open, lead Wie Warrior Mario was literally beside herself with emotion.
"I just checked the leaderboard at the LPGA's Fields Open and nearly fell out of my chair," wrote Mario. "Could it be a sign of things to come? Who knows. But with a healthy Wie in the mix, it could be an interesting season."
Sadly, Wie has already admitted that she'll never be healthy again: "I just accepted the fact that it's never going to be 100 percent ever again. After a major injury last year, it's never going to be the way it was before," she told reporters before the Fields Open started.
So maybe an unhealthy Wie in the mix will make things more interesting for the LPGA. But with Annika Sorenstam already with a win, Lorena Ochoa getting ready to defend her Player of the Year status, Paula Creamer with a win and a gaggle of other talented women out there, we're sure it will be interesting regardless.
Mostly, we're just thrilled out of our socks that Wie made the cut so that we can dedicate a few thousand more column inches.
Comments: Creamer ended up winning the Fields Open for her fifth career LPGA Tour victory. Pretty in Pink as always, Creamer again showed why she will be a threat on the tour for years to come. Sadly, Wie made the cut, so no one really was aware that Creamer had won. But she did and used a pink ball to do it. And we find that pretty supreme.
3. Tiger Woods
Comments: Woods won the WGC Accenture Match Play Championship to continue his undefeated season and continue his grand effort of getting all other professional golfers to quit the game in disgust.
4. Colorado Avid Golfer Magazine
Comments: The magazine drew a minor bit of ire when it chose to highlight World No. 1 Lorena Ochoa with an image of her superimposed over the Virgin Mary for an article about the Mexican sensation. Thus far the Virgin Mary has declined to comment, aside from appearing on a tortilla chip in New Mexico. But one thing can be said for certain: For one brief, shining moment, a few people realized there was a magazine called Colorado Avid Golfer. So, good for them.
Random Hate Speech: "If you're saying these things, stop doing it immediately. The players hate you, other fans hate you and, most importantly, I hate you. You're bringing everybody down, and you're embarrassing yourself."
-- Jim Rome, talking about fans yelling "Get in the hole!" when players such as Woods or Phil Mickelson tee off on par 4s or par 5s.
Random One-Sentence Commentary: That Jim Rome still has a good job is something we here at the GSRs find perplexing, annoying and somewhat depressing.
February 26, 2008
William K. Wolfrum keeps one eye on the PGA Tour and another watching golf vacation hotspots and letting travelers in on the best place to vacation. You can follow him on Twitter @Wolfrum.