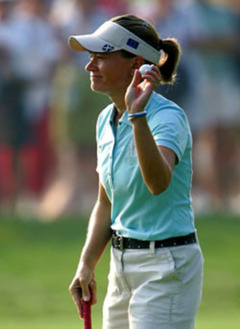 Catriona Matthew and her unborn child ran away with the win at Itanhanga Golf Club in Rio de Janeiro. (Courtesy of ladieseuropeantour.com)
Golfer Supremacy Rankings, Pat Perez, Catriona Matthew 'pregnant' with 2009 possibilities

By
William K. Wolfrum
,
Contributor
Here at the Golfer Supremacy Rankings, we're all about new beginnings. That's why we couldn't be happier with the start of the 2009 golf campaign. With the PGA and LPGA tours off to a remarkable start, we could be looking at an historic season of golf.
Now some may argue with our optimism. After all, the world is embroiled in an economic crisis. If money makes the world go around, then it most certainly makes the golf world go around, as well (see: FedEx Cup, The). How could professional golf possibly have a breakthrough year?
Well, while many see the glass as totally empty, we see the glass as full of nothing. And we remember back during Great Depression times when legendary golfers such as Ben Hogan and Byron Nelson emerged. History has shown us that bad economic times tend to produce amazing athletic achievements by Americans. We firmly believe the Great Financial Crisis will produce the same, even on the golf course.
And while there are a year's worth of fireworks to yet be exploded, thus far the 2009 campaign has been fascinating. After all, what other individual sport has managed to see a two-player team win an LPGA tournament in Brazil?
Golfer Supremacy Rankings
1. Catriona Matthew
Comments: Five months pregnant with her second child, Matthew shot a 3-under 69 to win the inaugural HSBC LPGA Brazil Cup. Matthew showed that Brazil can be a family location, as she and her unborn child ran away with the win at the Itanhanga Golf Club in Rio de Janeiro. And despite golfing for two, Matthew said she felt strong enough for the both of them; if she felt tired at all, she said, it was the type of tired you tend to forget.
"When you play well you don't feel tired," Matthew told the media following her win. "Maybe tomorrow I will feel it a bit."
2. Pat Perez
Comments: At 32, Perez has had some notable performances on the PGA Tour, but had never taken home a victory. He's struggled with his own emotions on the course for years. But at the 2009 Bob Hope Chrysler Classic, Perez was on top of his game, both mentally and physically, and earned $918,000 for his first career victory. The recently married Perez hit a bump in the road during the final 18, finding the water on the 233-yard, par-3 fifth hole, leading to a double-bogey. But instead of imploding, Perez kept it together.
"I look at that as just a speed bump now," Perez told the media after his final round. "I had plenty of holes left I could make a lot of birdies coming in."
Comments: We're all about moving forward, and, happily, so is Ballesteros. The great Spaniard, who has been suffering from a cancerous brain tumor, is making progress after successful surgery. Having just finished his first round of chemotherapy, Ballesteros is optimistic about his chances.
"Fortunately the results were quite good," Ballesteros said, in a statement posted on his Web site. "This Friday I shall begin my second chemotherapy course, which I hope and wish will be as effective as the first one."
Random Observation: Chrysler, the sponsor for the Bob Hope Classic, played it safe in their sponsorship at La Quinta. It seems that after scoring a few billion in government bailouts, the car company decided it would be best to keep a low profile, as announcers referred to the tournament only as the "Bob Hope Classic." One does wonder how long Chrysler will continue to keep up its sponsorship of golf. It doesn't make a ton of sense (or cents) to parlay an investment in a golf tournament into secrecy.
Random Quote: "Almost all of the musicians I know were one-time addicts of some sort - either alcohol or something else - and they end up playing golf because it's so addictive. It has that addictive quality to it. I mean, you go out there and hit 20 bad shots just to hit one good one. It's the only game in the world where a guy in a rock band would be up 'til 3 a.m. partying and still get up at 6 a.m. to play golf." - Alice Cooper.
January 26, 2009
William K. Wolfrum keeps one eye on the PGA Tour and another watching golf vacation hotspots and letting travelers in on the best place to vacation. You can follow him on Twitter @Wolfrum.