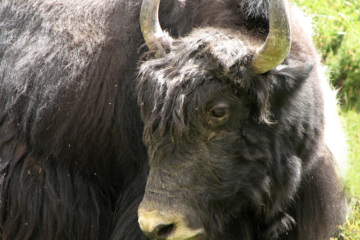 Only Yaks - pleased that it overshadows Bulgarian Yak Chucking contests - are happy to see the Skins Game on TV. (Courtesy Photo)
PGA and LPGA qualifying schools stomp silly Skins Game in these golf rankings

By
William K. Wolfrum
,
Contributor
We here at the Golfer Supremacy Rankings have learned something extremely important recently. When we stop ranking golfers the entire golf world apparently comes to a screeching halt. This lesson has been learned, and we vow never to stop ranking again ... unless another all-expense-paid trip around the world gets offered to us by some seedy sports agent, of course.
Okay, maybe the golf world didn't come to a complete stop. There were definitely a couple interesting things happening, namely the PGA and LPGA tours Q-School tournaments. Sadly, however, we once again saw a steamingly bad event - the Skins Game - again get more attention than the Q-School battles. Is it just us or do golf executives purposefully ignore the potential of Q-School.
The qualifying tournaments have everything. They are like a golf reality show waiting to happen. So much is on the line for these players it's incredible. Yet instead, golf is pawning off the Skins Game on us and hoping we get interested in Fred Couples tacking on another $200,000 or so to what is likely a ridiculous fortune.
So while we accept the silly season and its events as somewhat of a necessary evil, we also have our limits. And now that we're back from hiatus, we're ready to see if we can reign in some of the silly season nonsense.
Golfer Supremacy Ranking
1. Stephen Ames
Comments: We must always remember to thank Ames. No, not because he's prone to say silly things then blame the media for it, but because he has become the man to show the world that the Skins Game is the most irrelevant and stupid competition in all of sports, not just golf. Bulgarian Yak Chucking is like the World Cup compared to the Skins Game. By playing crappy golf, but winning $650,000 on the final hole, Ames repeated as Skins Game champion and hopefully proved to network executives everywhere that it's time the Skins Game go the way of the Old-Timers Game and other competitions that outlived their usefulness. Thanks, Stevie.
2. Q-Schools
Comments: The PGA Tour Qualifying Tournament and its LPGA counterpart may not have produced an earth-changing amount of drama - except to the participants. Great stuff as usual, and the chance to see some old names stay in the bigs (Frank Lickliter II, Duffy Waldorf, Kelli Kuehne) and some interesting up-and-comers earn their cards (Jane Park, Todd Dempsey, Alejandro Canizares, Dustin Johnson). Plus you got guys like Cody Freeman and Travis Perkins, who really have no business being with the big boys, but got hot when it counted and earned their cards. All in all great stuff from both tours, and still deserving of more respect as a way for the tours to highlight the old and new names coming on board for the 2008 season.
Comments: Nelson won the Del Webb Father-Son Challenge for the second time - this time with a different son - teaming with 29-year-old Josh to win the event. As a silly season event, the Father-Son Challenge is not much, but still light years ahead of the Skins game as far as creating some interest. In fact, Nelson's win makes the 2008 version of the event that much more interesting, as one question will be on everyone's lips: How many sons does Larry Nelson have?
Random Observation: Mark your calendars, everyone. The Golfer Supremacy Rankings have officially made December 10, 2007 the day that Donald Trump becomes officially too boring to talk about anymore. So, if you have any Donald Trump news or comments to pass along, do so now, because after the 10th, we'll just be unable to care anymore.
December 4, 2007
William K. Wolfrum keeps one eye on the PGA Tour and another watching golf vacation hotspots and letting travelers in on the best place to vacation. You can follow him on Twitter @Wolfrum.