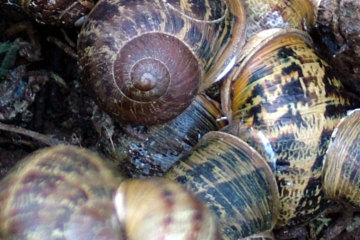 If you chose watching snails copulate as opposed to watching the Masters, you chose correctly. (Courtesy of J. Collingwood)
Tiger-proofing of Augusta National makes the Masters a supreme snail-fest

By
William K. Wolfrum
,
Contributor
Here at the Golfer Supremacy Rankings, we remember a time when the Masters meant something. Oh, sure, it's still a prestigious tournament and one of golf's majors, and a victory ensures the winner will go down in golf lore. But many, many years ago, the Masters was an exciting tournament to watch. Birdies and eagles were everywhere and attacking the course was the only way to stay in contention. While you can argue if it was the best of the majors, it was almost always the most fun to watch.
Then Tiger Woods came along in 1998 and won by about 30 shots. And while the golf public was enthralled by the young Woods and his prodigious talent, the masters of the Masters sensed a big problem - Tiger may never lose the Masters if Augusta National stayed the way it was.
Thus, Tiger-proofing was born. Augusta National lengthened the course, added trees, sped up greens and basically did everything it could to keep the long-driving Woods from completely dominating, even though the Masters had long had a reputation as a long-driver's paradise.
After all was said and done, the fine folks at Augusta National created a course that makes for incredibly dull play. And with the last two winners - Zach Johnson and Trevor Immelman battling for their lives to save pars and win green jackets, Augusta National has accomplished it's goal - it has completely suck-ified the tournament.
We at the Golfer Supremacy Rankings would be appalled if we weren't so bored. Watching the final pairing of Immelman and Brandt Snedeker muddle their way to the end was as compelling as seeing who will be the next voted out on Big Brother.
So our hats go off to the folks at Augusta National. Your Tiger-proofing has worked, and your tournament is as dull as watching snails copulate.
Golfer Supremacy Rankings
1. Trevor Immelman
Comments: Okay, the Masters was a dull affair, but we give credit where it's due. Despite looking a tad Van de Veldesque during the final few holes, Immelman led wire to wire to earn his first major title and become the first South African to win at Augusta since Gary Player turned the trick in 1978. Whatever your thoughts are on the lack of excitement, there's no doubt that Immelman, as a wire-to-wire winner, has now put himself in golf's elite, and with the experience under his belt, look for Immelman to be a contender at majors for the foreseeable future.
2. Lorena Ochoa
Comments: Sometimes, it's almost as if Carolyn Bivens likes the idea of seeing the LPGA fail. How else can you explain scheduling the Corona Championship in Mexico City for the same weekend as the Masters? With all eyes on a tepid Augusta, Mexican superstar Lorena Ochoa was driving her fans into hysterics, blistering the field by 11 shots. By posting scores of 66-66-66-68, Ochoa officially became the youngest player to earn her spot in the LPGA Hall of Fame. With a 2008 major already in her possession, Ochoa is looking she may obliterate the standards she set in her player-of-the-year 2006 and 2007 campaigns. Let's hope that Bivens gives the No. 1 female golfer in the world a little more face time. TravelGolf.com golf blogger Chris Baldwin put it best: "It's not just bad scheduling by the LPGA. It's a slight to Ochoa and all of Mexico."
3. Tiger Woods
Comments: How can coming in second at the Masters be a bad thing? Only if your name is Tiger Woods. The world's best golfer had openings during the final round at Augusta, but never really made a charge at all. Which is a shame, as Immelman looked quite ready to choke away the green jacket if he had a Tiger on his tail. Alas, it's not to be, and perhaps any talk of a Woods' Grand Slam should be forever shelved. That said, he did come in second at the Masters.
Random Fun Fact: Immelman's victory puts South Africa in a tie for second with Spain for the nation with the most Masters triumphs. Of course, even if a South African or Spaniard won every Masters from here on out, it would not be until the year 2059 that they caught up to the U.S., which has 55 Masters championships.
Randon Stupidest Blog Post of the Week: This is always a tough category, as the Masters brings out the best, and the worst of golf bloggers. And while Baldwin was right on the money with his blog about the LPGA and Ochoa, he missed the mark by a few thousand miles with his post "Suggestions back-in Masters champ Trevor Immelman's wife is hotter than Tiger Woods' Elin are crazy."
"Soon after Trevor Immelman backed into the most uninteresting green jacket ceremony ever, I received an e-mail from a sports writer colleague who wondered if I agreed that Immelman's wife Carminita is hotter than Elin Woods," wrote Baldwin.
Yeah, right, Chris. A colleague e-mailed you. We're all buying that.
April 14, 2008
William K. Wolfrum keeps one eye on the PGA Tour and another watching golf vacation hotspots and letting travelers in on the best place to vacation. You can follow him on Twitter @Wolfrum.