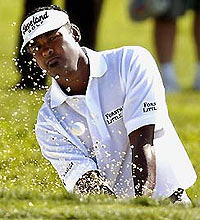 At 45, Vijay Singh has shown he's still at the top of his impressive game. (Courtesy Photo)
Vijay Singh drinking up the FedEx Cup success with a positive putting attitude

By
William K. Wolfrum
,
Contributor
Here at the Golfer Supremacy Rankings, our job is usually simple. Because with Tiger Woods around, real thought isn't required that often. In fact, we've transformed our patented golf rankings supercomputer into a patented golf rankings coffee maker. The main tool we've needed these past few years has been a thesaurus to look for interesting variables of the word "fantabulous" for the brilliant Mr. Woods.
So when Woods went down with a knee injury earlier this year, we were in a blind panic. If you think you have problems when your computer goes down, imagine our horror. Those supercomputer repair people don't come cheap.
That's why we're thrilled as could be that Vijay Singh has done his part to assure that our supercomputer can continue to give us the finest mountain-grown coffee instead of wasting away cranking out golf rankings. For this, we are eternally grateful, and to show our appreciation, we dedicate this one to the fantabulous Vijay Singh (we said we needed a thesaurus, not that we had one.)
Golfer Supremacy Rankings
1. Vijay Singh
Comments: Well, this year's FedEx Cup Playoffs simply brimmed with excitement, didn't it? With two tournaments left, it's all over but the crying. Singh, with two consecutive victories, has wrapped up this thing and is busy deciding what to do with his $10-million bonus. Singh's victory at the Deutsche Bank Championship was truly Tiger-esque - he kept himself near the top of the leaderboard, then left the field in the dust with a final round of 63 at TPC Boston. The only player to string together four rounds in the 60s, Singh was just remarkable.
2. Vijay Singh's Attitude
Comments: Regardless of how often Singh has been disrespected by pampered golf writer types, there's no denying the fact that the tall Fijian has already secured his place in golf history. There was also no denying that he did it without being a great putter. And sure, he's also not known for having a sparkling attitude at all times. But Singh decided he'd give the six inches between his ears some happy time, and the result was that he's gone berserk with the flat stick the past two weeks.
"I arrived last week at Ridgewood with a great attitude on the putting green and just kind of felt like I belonged on the greens. That was the biggest thing. That was the key," said Singh.
3. Vijay Singh's Eternal Youth
Comments: Singh is approaching 46, an age when most star golfers start thinking ahead to the easy money they'll get on the Champions Tour. And while Singh won't come close to his career year of 2004, when he notched nine victories and took home more than $10 million in the pre-FedEx Cup financial free-for-all, what he's doing is simply remarkable. It's quite possible Singh will pull a Jack Nicklaus and take home a green jacket at 46. Of course, it's a guarantee that he won't get the same kind of love the Golden Bear got for his historic Masters triumph. Regardless, Singh is showing that age is just a number. Maybe it's something in that Fijian water.
Random Factoid: "Vijay" translates to "victory" in Hindi. It also translates to victory on the PGA Tour - Singh now has a whopping 34 career tour wins.
Random Quote: "Singh is done contending in events that matter. He might win a few Wyndhams or Renos down the road, but he's no threat to the big players anymore." - TravelGolf.com writer Chris Baldwin, Aug. 24, 2007.
September 4, 2008
William K. Wolfrum keeps one eye on the PGA Tour and another watching golf vacation hotspots and letting travelers in on the best place to vacation. You can follow him on Twitter @Wolfrum.