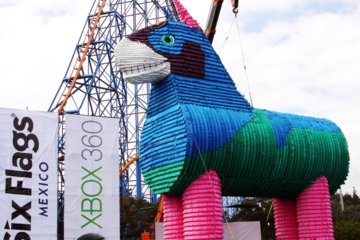 Okay, Lorena Ochoa is nothing like a piñata. But if she was, she'd be even more impressive than this, the world's largest piñata. (Courtesy Gamerscoreblog)
Young LPGA stars need to take Lorena Ochoa to a kid's party and beat her like a piñata

By
William K. Wolfrum
,
Contributor
After watching Lorena Ochoa's LPGA debut this year, we here at the Golfer Supremacy Rankings have one comment to young LPGA stars who would like to some day be the No. 1 female golfer in the world - invite Ochoa to a children's birthday party and beat her like a piñata.
Oh yeah, that's how we roll here at the Golfer Supremacy Rankings. We're controversial with a slight edge of racism. Isn't that what modern golf writing is all about? Seriously, though, Ochoa is a lot like a piñata in that she's filled with delicious treats and hard to hit if you're blindfolded.
Okay, maybe she's nothing at all like a piñata. What she is, however, is the best female golfer on the planet, and her dominant victory at the HSBC Women's Championship is just more reason to believe we still haven't seen the best from her. Tim McDonald put it well when he wrote:
"Lorena Ochoa is showing all the signs of grabbing the LPGA by the throat in the same way - well, almost - that Tiger Woods is crushing PGA Tour fields."
So all jokes in bad taste aside, let there be no doubt that Lorena Ochoa is a supreme being in the world of golf.
Golfer Supremacy Rankings
1. Lorena Ochoa
Comments: While it's nice to see Annika Sorenstam returning well from injury and seeing Paula Creamer score an early-season win, every last player on the LPGA Tour is a sidenote right now. It's Lorena Ochoa's world. We could go on and on about what a great person Ochoa is, how she's as kind and charitable as she is talented and how, by herself, she's made a huge difference for golf and for women in Mexico. Golf instructor Karen Palacios-Jansen put it well when she wrote:
"Golf in Latin America has exploded and it is all because of Lorena Ochoa. I grew up playing golf in Mexico in the 80's and back then I was the exception, hardly any women played. I was just in Mexico last month to play golf with my parents and I was amazed at the amount of little girls and women out on the golf course. Right now Lorena is the only Mexican on the LPGA, but that will change in the future. I guarantee that we will see a lot more Latin American women out on the tour and winning more in the near future."
What Tiger Woods has done to the PGA Tour, Ochoa is threatening to do the same with the LPGA, and we just can't say it enough - it couldn't happen to a better or more classy person. Count the staff of the Golfer Supremacy Rankings as huge Lorena Ochoa fans.
2. Ernie Els
Comments: It's been nearly four years between PGA Tour victories for Els, but the South African was back kissing the trophy after winning the Honda Classic at PGA National in Palm Beach Gardens, Fla. And while the time has passed for the debate of whether Els will truly be a player who can challenge Woods when both are at their best, Els' victory is sure to get his cavalcade of fans feeling more upbeat than ever. Ernie Els is back, and the golf world is all the better for it.
Comments: Okay, it's hard to use the word "Supreme" when talking about a golfer who just got stomped by 11 strokes by her main rival, but the fact of the matter is, Annika is back and playing beautifully. Including winning the season-opening SBS Open, Sorenstam has reeled off three consecutive top-four finishes. And while she may never be the same dominant figure as she was just a few years ago, it truly appears there's a lot left in Annika's tank. If Lorena Ochoa is going to become the Tiger Woods of the LPGA, Sorenstam will be one of the players that pushes her to those heights.
Random Leftist Remark: New Zealand, previously known only for three things - "The Lord of the Rings Trilogy," lefty golf champ Bob Charles and the HBO show "Flight of the Conchords" - has shown it's leftist feelings by hosting the 18th World Left-Handed Golf Tournament at Millbrook Resort. Nearly 300 golfers are taking part in the event. The tournament is a great celebration to the lefty golfer, and yet another sign of how far New Zealand has come from its past when it used to drown left-handers at birth [citation needed].
March 4, 2008
William K. Wolfrum keeps one eye on the PGA Tour and another watching golf vacation hotspots and letting travelers in on the best place to vacation. You can follow him on Twitter @Wolfrum.