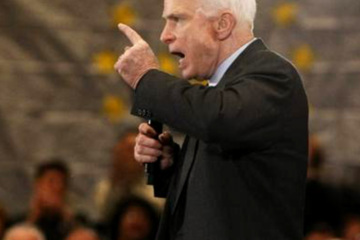 Golfers who love to throw their clubs in fits of rage have found a kindred spirit in Republican John McCain. (Courtesy of oldmanmccain.com)
John McCain leads Barack Obama in official poll of golf-club throwers

By
William K. Wolfrum
,
Contributor
As the 2008 U.S. presidential election rapidly approaches, Americans have been deluged with their own opinions on whether they will vote for John McCain or Barack Obama. But while public polls have always played their part in elections, this election season has seen polling grow into its own cottage industry.
Over the past several months of campaigning, voters have been vetted on all categories and demographics. Polls have been conducted that have examined the voting preference of citizens based on race, sex, earnings, religious beliefs and numerous other seemingly random demographics.
A recent BadGolfer.com survey takes this polling to the golf courses of America, and finds that John McCain has a substantial lead over Barack Obama among one important demographic - golf-club throwers.
According to the poll, McCain won big with voters prone to hurling their golf clubs in fits of on-course rage, with 82 percent saying, or shouting, that they supported McCain, compared with just 12 percent supporting Obama. The remaining 6 percent chased away the pollsters and threatened physical violence.
Karl Rove, an independent journalist with Fox News, said the polls accurately showcase one of McCain's bases - those that have little or no control of their temper.
"Club throwers see Obama as a calm outsider who they can't relate to," said Rove in a debate with fellow Fox News journalist Bill Kristol. "When they see McCain and learn about his infamous temper, they see a kindred spirit."
For his part, Kristol saw the polling in a different light.
"Everyone is aware that Barack Obama will raise their taxes by as much as 300 percent," said Kristol. "This creates a dilemma for club throwers, as that extra income is invaluable for replacing their clubs."
McCain's temper and angry outbursts are legendary among Washington insiders. The Senator from Arizona reportedly has berated, often with profanities, such political luminaries as John Cronyn, Mitch McConnell and Strom Thurmond, among others. Even wife Cindy McCain has not been spared the ire of the man who was known as "McNasty" in high school, as McCain is reported to have called his wife a "trollop," among other things, in front of reporters.
For golf club throwers, McCain's rage is viewed as a plus, and yet another sign that the man known as a "Maverick" is in touch with their needs.
"Seriously, I love McCain," said Timothy Johnson, a 21-handicap from Phoenix whose claim to fame is that he once completely demolished his Honda Civic following a round of 103 in front of his father-in-law. "He doesn't hold it in, and that's rare for a politician these days."
Terry Cummings, a 5-handicap who once threw all of his clubs - as well as those of his three golfing buddies - into a lake at a Las Vegas golf course, said McCain is truly the choice for those who have no self-control, nor have any interest in having self control.
"John McCain is someone who doesn't think, he reacts, and he's proud of that," said Cummings. "Thinking never helped anyone. Usually the best reaction to any problem is to just crush something."
Badgolfer.com also surveyed golfers who were adept with a 1-iron and found that 100 percent of them will not be voting in November.
"Dude, I can stick a one-iron on the green from 250 yards out," said Tadd Crumpington, the lone golfer who qualified for the survey. "When you can do that, nothing else matters."
September 4, 2008
William K. Wolfrum keeps one eye on the PGA Tour and another watching golf vacation hotspots and letting travelers in on the best place to vacation. You can follow him on Twitter @Wolfrum.