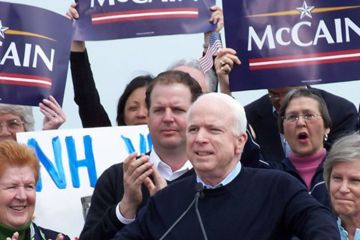 John McCain was just one of the Republican presidential candidates to sound off on golf at Thursday's debates at the Myrtle Beach Convention Center. (Courtesy shot.)
Golf is the hot topic at the Republican Presidential Debates in Myrtle Beach

By
Brandon Tucker
,
Managing Editor
The presidential primaries are in full swing as the focus shifts to South Carolina. Tonight the Republicans faced off at the Myrtle Beach Convention Center. It could prove to be a dramatic, pivotal debate.
BadGolfer.com's Brandon Tucker is there, blogging live from the Republican Presidential Debates in Myrtle Beach, S.C
7:30 p.m.: Hi everyone. It looks like we'll be starting a few minutes late. The crowd is still filing in. Lots of people were in the parking lot watching how far Chuck Norris can toss a Kia.
7:35 p.m.: We're ready to begin. The debate moderator announces the debate will be in the form of an audience Q & A.
"Crap," Rudy Giuliani accidentally mutters into his microphone.
7:36 p.m.: Jeff, a banker from North Myrtle Beach, opens with a question about the state of the economy.
7:39 p.m.: It's time for Fred Thompson to answer. His campaign strategist pokes him with a stick from the front row to wake him up.
7:41 pm.: Each of the six republican candidates has answered the first question. Each confirms the economy is still there.
7:42 p.m.: A woman identified as "Venus" interrupts and informs the crowd of a two-for-one lap dance special at Crazy Horse, Highway 17 North, immediately following the debates.
7:43 p.m.: Thompson suddenly wakes up.
7:47 p.m.: Due to lack of interest in the "issues:" the debate moderator announces all remaining audience questions will be about golf.
7:48 p.m.: The question from Tim Huggard: "Could each of you detail your favorite course and why?
7:49 p.m.: Romney butts in.
"Whichever course has the least amount of illegal immigrants on its grounds crew."
7:50 p.m.: Chuck Norris just walked into the convention center. Is that blood or wing sauce all over his face?
7:51 p.m.: Mike Huckabee acknowledges Norris' presence.
"When Chuck Norris misses a four-foot putt, it's because the hole flinched!"
Norris crosses his arms.
7:52 p.m.: Patrick asks, "Yo Rudy, I retired here from the Bronx last year. What's your favorite course? J-E-T-S Jets! Jets! Jets!"
Giuliani pauses.
"As you all know, New Yorkers love coming to Myrtle Beach, and I'm a New Yorker," explains Giuliani. "You may have seen me during one of my many cameos on Saturday Night Live."
He smiles.
"Now…technically I haven't been to any courses in Myrtle Beach, but..."
The statement draws a chorus of hisses and boos.
"But it's not my fault,' he backtracked. "I was supposed to visit once, but then 9/11 happened and…"
The heckles and boos grow deafening.
7:57 p.m.: A woman in clear heals has just hi-jacked the microphone: "Hi everyone, I'm Ferrari. I just want to let everyone know that at Masters Night Club tonight there will be an all-night happy hour, $2 long necks.
"Thanks! Go Elephants!!"
7:58 p.m.: Fred Thompson has unexpectedly abandoned his podium.
7:59 p.m.: Carl, a construction worker from Surfside asks, "Ron Paul, you're the 'people's candidate,' Where should we play if we ain't got the dough for that fancy-schmancy Caledonia Fish Club?"
"Possum Trot!" says Ron Paul.
"Eww!" Giuliani accidentally shrieks into his microphone.
8:02 p.m.: Steve from Murrells Inlet wants to know each candidates' stance on using bent grass in the South.
8:03 p.m.: McCain passionately answers:
"Look, we all know that Bermuda grass is the easy way to go.
"But my policy, and I've been steadfast on this all along, is to use bent grass, no matter the cost. I don't care if it's harder to upkeep. And I know the summer heat can be murder. I also know sometimes it doesn't work out and you have to close your golf course.
"But damn it, it's the right thing to do. I'm not going to sit here and tell you some cowardly strain of Bermuda is the right way to go, but we have to set an example and show them we won't tolerate a second-rate putting surface just because it's convenient!"
8:05 p.m.: The audience applauds McCain's knowledge of horticulture.
8:12 p.m.: Ron Paul is taking practice swings with an imaginary club. Mike Huckabee is playing the air bass.
8:20 p.m.: Mitt Romney is giving a hole-by-hole recap of his best ever round of golf. The crowd is growing restless.
8:24 p.m.: Fred Thompson just returned to the podium, with lipstick on his collar.
8:44 p.m.: Rick from Conway wants to know, "Do you feel locals are given proper discounts during the peak season?"
8:52 p.m.: It's Huckabee's turn to answer.
"Would you all like to know where I stand?" asks Huckabee. "Or would you like to watch Chuck Norris blast some tee shots?!"
The crowd cheers.
8:54 p.m.: Chuck Norris comes to the stage with a driver. The crowd is rhythmically clapping. Norris lets out a primal scream and swings. His club head explodes into a million pieces of titanium as he strikes the ball.
The ball shatters a floodlight, which drops onto five Romney supporters.
8:55 p.m.: Chaos ensues. Huckabee announces: "If Chuck Norris wants to send a golf ball 400 yards, he shoves a Titleist down his caddy's throat and gives him the Heimlich maneuver!"
8:56 p.m.: The crowd erupts. Huckabee is carried off the stage to uproarious applause, and everyone in the convention center rushes to Crazy Horse.
8:57 p.m.: The debate is over.
January 8, 2008
Brandon Tucker is the Managing Editor for Golf Advisor. To date, his golf travels have taken him to over two dozen countries and over 500 golf courses worldwide. While he's played some of the most prestigious courses in the world, Tucker's favorite way to play the game is on a great muni in under three hours. Follow Brandon on Twitter at @BrandonTucker and on Instagram at BrandonTuckerGC.