TravelGolf.com's BadGolfMonthly.com Featured in Sports Illustrated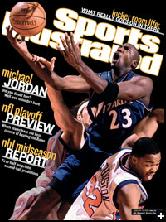 PHOENIX, AZ - Continuing a string of national recognition by major publications, TravelGolf.com's BadGolfMonthly.com was recently featured in Sports Illustrated's Jan. 14 edition. The article by staff writer John O'Keefe includes an interview with TravelGolf.com publisher Robert Lewis, a notoriously bad golfer himself.
"When Sports Illustrated approached me about the article, I had no reservations about telling them how bad a golfer I actually am," Lewis said. "I like to think I am a much better publisher than player, and that is why we've been fortunate enough to be sought out by the world's most prestigious sports magazine."
In December, TravelGolf.com was named "Best of the Web" by Forbes Magazine in its vaunted sports and travel category. The SI article focuses in on the company's venerable BadGolfMonthly.com publication, a source of comic relief for duffers and non-duffers alike. The connection between the tongue-in-cheek website and the more serious TravelGolf.com wasn't lost on O'Keefe, who wrote:
"The torment of badgolfmonthly.com is that it's part of Lewis's travelgolf.com network. So even as you're feeling better about your shortcomings, you're bombarded with ads for and links to gorgeous courses that you have no business playing."

Lewis (pictured below) said that the SI article will be an excellent source for new readership across the TravelGolf.com network, which is already the world's highest read chain of golf and travel publications.
"It's not like we are an exclusive country club that eschews new members," Lewis said, laughing. "We are always looking for new readers ... new members of the TravelGolf.com family. Anyone that knows me will tell you we won't stop until we are a household name among golfers, and even then, we won't stop."
For more information on the rankings, contact TravelGolf.com at 520-219-5760.
January 15, 2002