Why Spurrier Has Carolina on His Mind

By
Shane Sharp
,
Contributor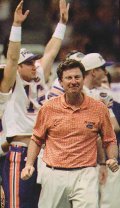 CHARLOTTE, N.C. - The Carolina Panthers officially announced Monday that head coach George Seifert had been fired. Actually, Seifert made the announcement, grim-faced and dejected, without the assistance or presence of owner Jerry Richardson.
Steve Spurrier announced last Friday that he was stepping down as head coach of the Florida Gators football team, just two days after a 56-23 pasting of Atlantic Coast Conference champ Maryland. Spurrier, while his wrinkled up, angst ridden face wasn't visible for public consumption following his announcement, was anything but grim-faced and dejected to be sure.
What in the world, you ask, does this have to do with golf?
Everything, my friends.
We all know by now that Spurrier is looking for an NFL head-coaching job, and he said as much in a statement released last week by the University of Florida. We also know that he made a lot of money as a college coach, and no matter where he ends up in the professional ranks he'll make a boatload more.
First and foremost, we know that Steve Spurrier (at right) enjoys a round of golf just as much as he does running up the score on some inferior opponent.
"He's the best golfing coach in the college ranks that I know of," said Lon Kruger, head coach of the Atlanta Hawks and former basketball coach at the University of Florida.
There were only three things that Spurrier did during the offseason at Florida: Golf, recruit, and dream up ways to embarrass Florida State head coach Bobby Bowden. During the season, he staked out practice ranges in towns like Knoxville, Lexington, Columbia and Nashville so he his handicap wouldn't plummet from a single digit.
So what we have is the rapidly unfolding story of an arrogant, visor tossing football coach, and a bidding war among up to seven NFL teams that despite money, control, perks, bells and whistles will come down to the average number of sunny days and golf holes said metropolitan area can provide.
Think we're kidding?
Well, we aren't. And we'll put our money where our mouth is and make a guarantee, not a prediction:
Steve Spurrier will be the next coach of the Carolina Panthers. The Panthers can't offer Spurrier as much money as the Washington Redskins, or as many 80 degree-days as the Tampa Bay Buccaneers.
But they can offer him access to 50 daily fee golf courses and four top rate private facilities within a 45 minute drive of his day job, a 3.5 hour drive to 110 courses in Myrtle Beach, a three hour drive to 20 courses in Charleston, a 1.5 hour drive to 40 courses in Pinehurst, and a four hour drive to 30 courses in Hilton Head.
"I think there's a good nucleus and some good young players. At some point, a winning tradition will be established here," said Seifert at his press conference.
Translation: This team sucks, good luck dude.
The fact that they have one of the most inexperienced, untalented teams in the NFL, led by an ex-Florida State Seminole at quarterback won't even factor in the equation for Spurrier, however. The fact that the Charlotte Country Club is one of the best Donald Ross courses on the east coast, will.
Then tack on these other extenuating circumstances like another unnecessary Gator touchdown against the Citadel:
Spurrier is familiar with, and has an affection for the Carolinas. Before becoming the head coach at Florida, Spurrier was the frontman at Duke, where he did the unthinkable and led the Blue Devils to an ACC title in 1989. He has family in Charlotte, and would fit right in as a good old southern boy in a good old southern city.
Need more? In true Spurrier fashion, we'll go for two up 40 points with one minute left in the fourth quarter:
Golf in Charlotte is a year around pursuit, and Spurrier teed it up with daytime highs in the low 50's when he lived in Durham. When it does get too cold, he'll be off to Myrtle Beach, Charleston, Hilton Head, and even back down to Florida a 1.5-hour plane ride from Charlotte Douglas International Airport.
The visor is on the ground now, and we're calling a time out so we'll get the ball back and attempt a field goal from 60 yards, up 42 points with five seconds to play:
Spurrier to Minnesota? Too cold. San Diego? Too west. Atlanta? Too close to Tennessee head coach Philip Fulmer.
Other than Carolina, the only other serious contenders for Spurrier's services are the Washington Redskins and the Buccaneers. Spurrier turned down the Skins job last year, and the Buc's job won't even come open if head coach Tony Dungy leads Tampa Bay past Philadelphia in the NFC wildcard game this Saturday. Even if the Bucs lose, chances are Tampa Bay will retain Dungy, who is a player favorite and a regular playoff participant.
"By the time I am 60, I hope to be playing golf four or five days a week ..." said Spurrier at his official press conference Monday afternoon.
The wind kicking up this evening across the Carolina Piedmont should help the ink dry on Spurrier's contract with the Panthers, and his membership at the Charlotte Country Club.
January 7, 2001
Shane Sharp is vice president of Buffalo Communications, a golf and lifestyle media agency. He was a writer, senior writer and managing editor of TravelGolf.com from 1997 to 2003.