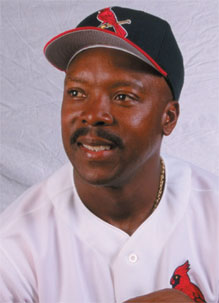 Vince Coleman struck fear into the hearts of pitchers and catchers during his Cardinal days. (Courtesy www.tahoecelebritygolf.com)
Cardinals steal man Vince Coleman brings his swagger to golf

By
Chris Baldwin
,
Contributor
SCOTTSDALE, Ariz. — Vince Coleman may be just about the last athlete you'd expect to be finding happy refuge in the slow, steady rhythm of golf.
For one thing, most sports fans probably don't remember Coleman happy at all. The St. Louis Cardinals speed demon is still best known for throwing a firecracker that injured three fans when he was a jaded veteran with the New York Mets. (Though Coleman disputes this is how fans see him, as you'll read.)
Regardless, it's still hard to imagine one of the fastest men in baseball, a guy who could outrun everything but the mechanical tarp, doing anything slow. Coleman shattered the major league rookie record for stolen bases (with 110 in 1985), led baseball in steals for six straight seasons, once stole a record 50 straight bases without being caught (in 1989).
No matter what they tried, opposing teams just couldn't slow Vince Coleman down.
Now, this guy is one of the biggest devotees of arguably the slowest game on earth. In a town that worships golf - where the city council votes to spend $10 million to renovate a course - Coleman can hold his addiction to the game up with anyone's.
He had a home in Scottsdale custom-built to his specifications for $1 million back in the early '90s when a million still went a long way in Scottsdale. The house overlooks the Gainey Ranch Golf Club — a 27-hole semi-exclusive facility right by the Hyatt Regency. Coleman spends a ton of his time on this golf course (he dropped a $30,000 check on the general manager's desk when he first moved in to be able to play there whenever he pleased).
Coleman admits to being stupid in golf at first, to carrying his cockiness in baseball over to his new game and getting taken by a bunch of pros all too eager to go match play with a base stealing all-star.
Now, his handicap is down to a 2, he plays in a bunch of celebrity golf tournaments where the galleries tend to ask him to sign pictures of himself in a Cardinals uniform rather than inquire about firecrackers. With St. Louis having broken through and won its first World Series in 24 years this October, he's not asked so much either about the automated tarp that rolled out and infamously trapped his leg for almost 30 seconds during the 1985 playoffs, knocking the Cardinals' sparkplug out of the playoffs and a World Series loss.
Coleman has a son — also named Vince Coleman — who's a star senior wide receiver for Scottsdale's Chaparral High. He's a family guy now, another middle-aged dude who finds a release in golf.
Vince Coleman seems happy. And still awfully proud. Imagine that.
Q: When did you first really start getting into golf and take it seriously?
A: I think in 1993 when I moved to Scottsdale, that was when I started playing against a lot of pros and they started betting me all this money. And I started losing hundreds of dollars a day.
So I figured I'd better get serious.
Q: So the celebrity tournaments might actually be low stakes compared to what you're used to — how competitive do you get when it's modest prize money rather than your money on the line?
A: Oh, it's exciting. I mean you come out and compete amongst all the greatest athletes you've admired over the years and you are not only challenging those guys, you're challenging yourself. You're going out playing each hole moment by moment and hoping that you can beat the course.
Q: Does it compare at all to baseball and stepping into the batter's box? Can you take one and bring it to the other sport?
A: No, I mastered what I did. I had everyone at my mercy. When I stole bases there was nothing you could do to contain me. All you can try to do is contain me. You couldn't stop me. But out here, it's luck of the draw. You never know when bogeys or double bogeys may show up. And that really costs you.
Q: You look at baseball today and the stolen base isn't as much a part of the game anymore. A guy steals 40 bases and they say he's a great base stealer. What do you think when you hear that on TV, considering your numbers?
A: I'm glad you said that and not me, because they say all these guys are base stealers? I'd like to say I was a dominant base stealer. Where I was going on the first and second pitch. Where these days, these guys take pitches and they wait until the count is in their favor.
In Busch Stadium we had a saying going whenever Vince Coleman got on the base, the whole concession stand shut down, because they knew something was about to happen. These guys playing these days ... If I was playing today, I'd be making $10 million. I tell you that.
I tell my wife that all the time. At the All-Star break my goal was to have 50 steals. Not at the end of the season.
Q: Being so dominant in your first sport is at all hard to get out on the golf course and realize you cannot dominate in this arena?
A: I look at it as a stepping stone. Each day is a progress. For me I started so late (in life) and I'm getting it to the point where I feel like I can compete against the ones that have been playing all along. But I just need to be more consistent.
Q: You come out to a celebrity tournament and fans seem to be pulling for you. Do you think the way you've been in golf has changed what people might have thought of you?
A: Ah, no. I think they love me for what I've done on the field and they've known that I'm a good person. And at the end of my career, wherever it may have taken me, I still persevered as a good guy and never was a bad guy.
Q: Even with that firecracker you threw that hurt a few kids? You don't think people looked at you as a bad guy — sort of a what's wrong with sports — for a while?
A: You guys always have to bring that up. I think most people are forgiving in life.

March 23, 2007
Chris Baldwin keeps one eye on the PGA Tour and another watching golf vacation hotspots and letting travelers in on the best place to vacation.