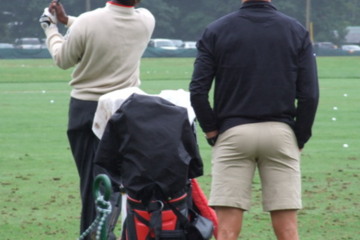 Vijay Singh on the practice tee scares golf writers more than you'd ever believe. (Chris Baldwin/GolfPublisher.com)
Golfer Supremacy Rankings' Halloween special scares up the competition

By
William K. Wolfrum
,
Contributor
With Halloween right around the corner, the Golfer Supremacy Rankings would be remiss not to handicap the world's scariest golfers. Tiger Woods, Vijay Singh and Rory Sabbatini are among those making the list of this year's most ghoulish golfers.
Being it's Halloween time, we here at the Golfer Supremacy Rankings thought we'd come right out and admit that we believe in ghosts. In fact, more or less, we believe in everything.
We believe the moon landing was a hoax. We believe Sept. 11 was the result of a super-devious plan by the U.S. government, in tandem with Israel and vicious space monkeys. We believe Michelle Wie will one day win a bunch of LPGA tournaments. And space monkeys, did we mention we believe in those? We believe in vicious space monkeys.
Of course, golf can be downright frightening regardless what you believe. Especially for golf writers, who as we all know, get spooked rather easily and switch to attack mode in a matter of seconds. Of course, pro golfers themselves can get terrified pretty easily at times, as well, especially if Tiger Woods is hanging around the leaderboard come the final round. Heck, even fans can be easily frightened by a loudmouth golfer.
Golfer Supremacy Rankings: Halloween Edition
1. Vijay Singh
Comments: Let's face it, to many golf writers, Singh is a truly terrifying presence. Get this -- the guy can be rude to journalists. Yeah, that's right. Rude. You terrified yet? Well, golf writers sure are and have made sure that everyone is aware that Singh is just an awful human being. At least to them.
"Singh's sometimes hostile approach to the media turns off many reporters," wrote Craig Dolch in the Palm Beach Post.
Is Singh done as a top-tier golfer? Only time will tell. But one thing is for sure -- he scares the hell out of golf writers.
Comments: When it comes to the LPGA Tour, golf writers really only have the time and inclination to cover a few golfers. That's why Michelle Wie was still making headlines as she fired off 80s and talked like she was shooting 65s. Pettersen, however, has the potential to really scare the hell out of golf writers.
Face it, they finally got the memo that Lorena Ochoa was the world's best female golfer, and were excited about a 2008 LPGA campaign that featured Ochoa vs. a healthy Annika Sorenstam. There'd be a few stories about players like Paula Creamer and Morgan Pressel, and some full-page layouts of softball Q&A's with Natalie Gulbis and that would be that. But now Pettersen has entered the mix, showing an uncanny ability to win in what certainly is a breakthrough 2007 season for her.
Going into 2008, golf writers may be forced to recognize Pettersen. A truly scary proposition for them, indeed.
3. Tiger Woods
Comments: When the World's No. 1 golfer leads after three rounds, his record is something like 452 wins and one loss. It's ridiculous. After more than a decade on the PGA Tour, Woods still has a prime-time, Mike Tyson-like effect on fellow golfers, who collapse as if chased after by that mask-wearing dude in the "Scream" movies. And when Tiger goes into a tournament confident and with winning on his mind - like at the 2007 PGA Championship -- the rest of the field barely bothers to show up. Do yourself a favor, dress your kid up as Tiger Woods for Halloween. Normal people won't be scared, but any golfer who sees Tiger at the doorstep will completely lose it and shoot an 87.
Comments: Sabbatini plays a good game and talks a better one. And for golf fans, nothing is more frightening. One would have thought that Sabbatini had given a ringing endorsement for Satanism, such was the reaction he got from saying he thought Tiger Woods was beatable. Golf fans immediately formed posses, lit torches and went after the South African. If he notches a few more wins in 2008, golf fans could drop into fear-induced comas.
5. Boo Weekley
Comments: Okay, Weekley seems like a nice enough guy, and really not overly frightening. But his name is "boo" and we felt we'd really be missing the boat if we didn't include him in a Halloween edition.
Honorable Mention: Ron Mon - While many would point to Chris Baldwin as the scariest golf blogger going on the Internet today, we here at the Golfer Supremacy Rankings point to Mon, whose occasional forays into golf blogging can be terrifying. Seriously, the guy kinda gives us the creeps.
Halloween Golf Fact: In California, at Aetna Springs Golf Course, witnesses have reported seeing the ghosts of eight monks traipsing across fairways. This and other frightening golf facts can be found by clicking here.
September 29, 2007
William K. Wolfrum keeps one eye on the PGA Tour and another watching golf vacation hotspots and letting travelers in on the best place to vacation. You can follow him on Twitter @Wolfrum.