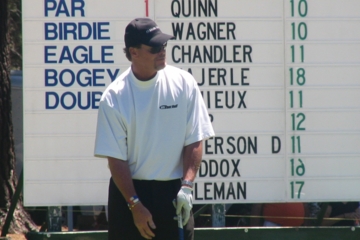 Former Bears quarterback Jim McMahon lines up a putt at a lake Tahoe celeberity tournament. (GolfPublisher.com)
'80s football rebel Jim McMahon: "Golf's no fun without a buzz"

By
Chris Baldwin
,
Contributor
STATELINE, Nev. - Watch Jim McMahon play golf and it's 1985 all over again. Only the headband is replaced by bare feet - an unmistakable fashion statement that's every bit as disconcerting to the golfing powers-that-be as those headbands were to NFL Commissioner Pete Rozelle. And the beer is replaced by ...
OK, the beer's not replaced by anything. Except another beer. And another.
When TravelGolf.com caught up to McMahon at a celebrity golf tournament in Lake Tahoe, he was walking off the 18th green with a Coors Light in each fist. When he sat down at the scorer's table one of the volunteers offered him another beer.
McMahon quickly took it. "Thanks, I was getting a little light," he said, now having more beers than hands.
What, you expected a 46-year-old Jim McMahon to be drinking ice tea in a boardroom somewhere? The punk quarterback who led one of the most dominant and entertaining teams in NFL history - the 18-1 1985 Chicago Bears - is alive and well. Still giving no quarter. Still suffering no fools.
The guy of whom sportswriter Rick Telander once said, "He knows he's a jerk and he doesn't care that you know he's a jerk," is still, well, the same guy. He still looks like the plucky battler who was just as willing to run between linebackers as to throw over them.
There are no noticeable bald spots on McMahon's dome and no middle-aged paunch in his middle (just the same paunch he had in his football days). The only sign that he's aged is the salt and pepper in his goatee.
The crowds at Edgewood Tahoe haven't forgotten the McMahon they loved either. They lined up against the ropes at for his autograph, approaching the numbers that turned out for Charles Barkley, if not quite for Ray Romano. Most held up old Bears jerseys or photos. The latter almost always showed him in some cocky pose, headband in place, rather than throwing a football.
McMahon wasn't particularly thrilled to talk to a reporter, but he wasn't shy with his opinions either. He explained why he golfs barefoot but not bare-butt, ruminated on the power of on-course beer and shot back a surprising answer to the inevitable Terrell Owens question.
You didn't think the guy who mooned a news helicopter at the Super Bowl would be boring, did you?
Q: What's the deal with the no shoes while golfing?
A: I hate farmer's tans.
Q: But you're wearing pants.
A: Unfortunately, they won't let me play completely naked.
Q: How competitive do you get out here in these celebrity golf tournaments?
A: I was very competitive yesterday. But then ... when you show up with no points [in the Stableford Scoring System] after the first day, there's no competitive. Just trying to get through the next two days. You know, when you're 30 points behind the leaders, you just try and get through it.
Q: When did you first really get into golf?
A: Right about 17 years ago when this tournament [the American Century Championship] first got started. Everyone started to get serious. I haven't got serious. My game hasn't changed. Because I don't hit balls. I go right from the van to the first tee. I just try to have fun out here. These guys are too good.
Q: Are you still the party guy from your NFL days? Hanging out every night?
A: Oh yeah. I haven't had too much sleep this week. It's been good.
Q: Are you surprised that you're still so popular today? That everyone still knows Jim McMahon?
A: It's been 20 years dude, I don't know ...
[At this point a woman in a navel-bearing T-shirt and short shorts leaned over the spectator ropes and interrupted, "It's because he's so good looking!" McMahon grinned.]
Q: Why do you think people relate to you more than to most pro athletes?
A: I think most of these people, if they golf, they're going to have a beer. They should. Golf's no fun unless you've got a buzz.
Q: What do you think of Terrell Owens? You were sort of the original NFL bad-boy rebel. What about the direction today's players have taken it?
A: I don't think about any of them. I haven't watched a game in 10 years. I could give a shit. I'm not a big fan of the game. I love to play it. I don't watch it.
Q: Do you think anyone's having as much fun in the NFL today as you were when you played?
A: I doubt it. The best they could do is tie me. And I doubt that.
Q: What do you think of Michelle Wie?
A: Who? Seriously, dude.

September 26, 2006
Chris Baldwin keeps one eye on the PGA Tour and another watching golf vacation hotspots and letting travelers in on the best place to vacation.