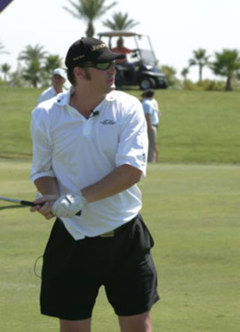 Nicknamed "The Brat," poker's Phil Hellmuth attracts as much attention on the golf course as at the table. (Courtesy High Stakes Entertainment)
With ESPN event on tap, poker's Phil Hellmuth draws big divots, high stakes on a Las Vegas golf course

By
Brandon Tucker
,
Managing Editor
LAS VEGAS, N.V. - It's easy to track down poker star Phil Helmuth at the golf course.
You can use your eyes - seeking out the tall, gangly man towering over his playing partners and camera crews.
Or you can use your ears, as the always chatty "Brat" of poker is surely speaking his mind - loudly - about something.
Or you can follow the trail of the giant, crater-like divots around Bali Hai Golf Club. Follow this path and it's sure to lead you to Helmuth - who has spared no sod in the inaugural High Stakes Golf Tour competition in Las Vegas.
"I've been practicing hitting off the tees so I couldn't hit a wedge today," Helmuth says about re-landscaping the grounds during his round. "Now I'm trying to hit the ball and I'm just chunking everything. I just looked bad, played awful - but I contributed a few shots."
Helmuth's excuse is he thought he would be allowed to use a tee everywhere at the event, which was organized by Las Vegas gambling legends Dewey Tomko and Doyle Brunson, only to show up and be told he'd have to play the ball down.
Vegas' old-school hustlers still know a thing or two about putting the odds in their favor.
But Helmuth has had the last laugh at the tables in recent years. He's won more World Series of Poker bracelets (11) than even the "Texas Dolly" Brunson and Johnny Chan, who have 10 each. He's among the most feared players at the table - and often the most annoying personality.
His persona as poker's loudmouthed nuisance - who often pouts when he loses and gloats when he rakes it in - is no act for the TV cameras. He's as unpredictable off as on.
"He showed up in a cab today," said one miffed valet at Bali Hai. "We weren't expecting that."
This was coming at the high-end club right on the Las Vegas Strip, where the rest of the competitors showed up in luxury coaches or their own flashy sports cars. In a town where image is everything, Helmuth goes his own way.
He's also a tough interview. Sometimes he ignores questions, staring out into space thinking about something unrelated. Or he can't get through an answer before he's calling across the room to fellow gambler Daniel Negreanu or his teammates about setting up a possible P.M. high stakes match, this coming after a full morning round playing for $1 million a hole in 110-degree Las Vegas heat.
Genius - or simply scatter-brained, it seems to work for Helmuth. BadGolfer.com caught up to him - sort of - between rounds of the inaugural High Stakes Poker Tour at the Bali Hai golf course in Las Vegas, which will air Oct. 21 on ESPN.
BadGolfer.com: What's with the putting one-handed?
Phil Helmuth: My stroke was so bad - hit the right lip from 24 feet. Second time hit the lip from seven feet. Third I had a bad one - it just so happened when I got over that putt I felt comfortable two handed - and I said 'it's about time for me to show up.'
Q: What do your partners, counting on you for $1 million, think when you're putting one handed?
Phil Helmuth: I like pressure. On the ninth I wanted to putt last. I'm the worst golfer in the group. I come through over and over and over and over. But you can't have it 100 times a day. You have to build up for those moments. So I asked [my teammates], let me putt second or third. I would have loved to have putt third. They could have rolled the ball more freely that way. I think my teammates were feeling a little pressure. I wasn't.
Q: The High Stakes Golf Tour is a new concept - you guys aren't exactly scratch players out there. Is this something people are going to watch?
Phil Helmuth: I think it's going to be huge. People are going to love watching the pressure and seeing people choke. I love to watch the PGA Tour to see people choke, and that's what you're seeing here. You're watching people choke.
BadGolfer.com: Why are so many professional poker players golfers?
Phil Helmuth: For a poker player, golf is a great thing to do because we spend a lot of time inside at the tables. We're always inside, whether online or the real world. Golf is a good balance for that.
I've been golfing here every day this week. The first day out of the box, my partner and I won about $48,500. Yesterday I lost $5,000.
Q: Poker has become huge on TV and online. Why is that?
Phil Helmuth:My thoughts? It's been crazy. A guy like Negreanu, he gets recognized everywhere he goes in Canada and the U.S. I do too. It seems like we get treated like major stars.
We have a skill that allows us to make a lot of money, and there's more kids playing poker than golf - or football, or basketball - so it's a game they play and there's a huge audience. It's a game everyone can play. I'm surprised a little, but not really.
Just then, Negreanu comes by again and sets stakes for a P.M. match with Helmuth: "10 a hole," he says. We can assume "10" means "$10,000."
"I'm game," says Helmuth. "But only if I can tee it up everywhere."
PUT THIS IN A BOX:
High Stakes Golf Tour on ESPN
The High Stakes Golf Tour will debut on ESPN on Saturday, Oct. 21 at 3 p.m. EST, with the second day, 10-team best ball the following Saturday, Oct. 28 again at 3 p.m. Re-air dates will be announced later.
October 18, 2007
Brandon Tucker is the Managing Editor for Golf Advisor. To date, his golf travels have taken him to over two dozen countries and over 500 golf courses worldwide. While he's played some of the most prestigious courses in the world, Tucker's favorite way to play the game is on a great muni in under three hours. Follow Brandon on Twitter at @BrandonTucker and on Instagram at BrandonTuckerGC.