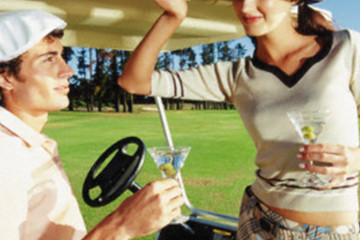 Don't forget: Dressing sexy and flirting will help your golf score. (.)
Ladies, don't be Wie: Know the etiquette of playing golf with men

By
Tim McDonald
,
Contributor
Watching Michelle Wie's meltdown at the John Deere Classic was painful in more ways than one.
It was embarrassing for her, for Nike and for all those giggling young girls who want to be like Michelle.
Clearly, she didn't know the golf etiquette of playing with men. Playing partner Jeff Gove chastised her for holding things up. That tends to happen when one is on the verge of vomiting pineapple projectiles.
"I saw she was hurting, but she never said anything," Gove told reporters. "And she was walking real slow, which I thought was inconsiderate again, because we're trying to keep up. If we get on the clock again, that's painful."
Gove said their Friday outing was actually better than Thursday's, when he said he explained to Wie about fines for PGA Tour.
"Oh," Wie reportedly said.
In any case, it got me to thinking about women playing golf with men in general. We - men, that is - allow women to play golf with us occasionally, usually when we are either married to them or when the starter swears there is no other way.
I've found that very often, women simply aren't aware of the rules of etiquette when playing with the physically superior. So I offer these helpful hints to women who find themselves playing with us warriors.
• Wear something extraordinarily provocative. Either a super-low-cut blouse or a golf skirt that reaches up to somewhere just south of Canada. This will help in several ways. First, it will cut down on the men's initial griping at having to play with a female. Also, it will ensure the men won't be trudging in disgust off the green until you have retrieved your golf ball from the hole.
However, be advised: In case the men in your group are drinking heavily, you'll want to have something more conservative to slip into. Either that or a small carving knife.
• Tee off where the men do, even if it's from the back tees. We're tired of having to wait while you prance up to the pink tees, well after we've teed off from the manly tees. You gripe that we sometimes forget about you and drive on ahead while you're trying to tee off. Not true. We haven't forgotten. We're sending you a message, like Gove did to Wie. Speed it up.
Don't worry about keeping up with the men - USGA statistics prove the average group of male golfers seldom hits it farther than the average girl.
• Buy the first round of drinks. This will ingratiate you to the men in your group and let them know you're one of the boys. A smart ploy is to keep this up during the duration of the round; they will overlook your obvious shortcomings as a golfer. And if you know any good Irish drinking songs, belt them out.
• Fall all over yourself complimenting the men's good shots, especially their drives. Most men don't care about anything else; they just want to be the longest off the tee. This is where you can really curry favor: When one of the boys hits a good drive, fan yourself like you're about to faint and say, "Oh my, I've never seen such length!"
And if, god forbid, you should accidentally happen to out-drive any of them, exclaim to all: "I don't know where that came from, boys. I must be ovulating!"
• Urinate behind a tree. I understand this goes against your every instinct, but damn it, just try! It'll set you free. The men in your group will be so awestruck they'll buy you a beer.
• Don't be such a stickler for the rules. Ignore it when the men cheat. Hell, encourage it. Say, "Goodness, that's a terrible lie," when one of your male partners whacks it in the rough again. Then bend over, making sure to show maximum cleavage, and fluff up his golf ball all nice and neat and sitting up pretty. He'll shank it anyway.
• Under no circumstances should you beat them. Understand this well, ladies. Why do you think all those men hate Michelle Wie?
July 25, 2006
Veteran golf writer Tim McDonald keeps one eye on the PGA Tour and another watching golf vacation hotspots and letting travelers in on the best place to vacation.