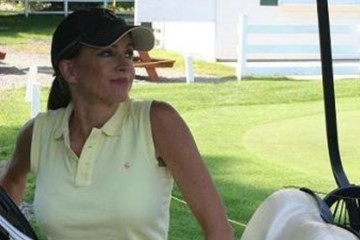 Patricia Hannigan has quickly made a name for herself in golf circles with Golf Girls's Diary. (Courtesy Patricia Hannigan)
Patricia Hannigan: A fun and flirty Golf Girl burning up the blog-o-sphere

By
William K. Wolfrum
,
Contributor
Golf blogger Patricia Hannigan has a theory on golfers in the United States.
"I think that in America, because a lot of guys start playing young, they get good enough to crowd us out of the game," Hannigan said. "That's what I'm trying to change, one blog at a time."
The "us" Hannigan refers to are women and those who approach golf more as a social exercise than a competitive knock-down, drag-about battle. And while in the United States, golf is still often the playground of men looking to exorcise their competitive fires, if anyone is able to help open golf up for those with other mindsets, it's the attractive and mercurial Hannigan.
Author of Golf Girl's Diary - "The fun, flirty, fashionable golf blog" - Hannigan has quickly made a mark for herself in the golf blogosphere, with men flocking to her site to catch a glimpse of the well-proportioned brunette - who has a talent for publishing pictures of herself that leave her fans wanting more - as well as with women, drawn to her love of fashion and pro-woman-golfer attitude.
And while Hannigan may not be the prototypical feminist, neither she, nor her growing legion of readers seems to mind one bit. And Hannigan has been on the front line, supporting female golfers that combine good looks and golf ability like Paula Creamer, Natalie Gulbis and Michelle Wie.
"I think it really empowers women that you can play golf and also be really feminine," Hannigan said. "To me, it's all a good thing. Being beautiful is one more thing to have and why try and hide it?"
For Hannigan, hiding it isn't part of her style, be it on or off the golf course. Her upcoming "Swimsuit Edition" has drawn a lot of interest from her readers, and not just from the men.
"It's amazing how many women are writing in about the swimsuit edition," Hannigan said. "I'm hoping to have that out by the first of August. I really want to make that classy and fun."
It's that classy and fun attitude that has readers of both sexes flocking to her site, where she'll write posts about everything from her thoughts on PGA Tour events to the women of the LPGA, fellow golf bloggers, golf fashion and well as her latest trips with French husband Nick. Hannigan, who visits France often with her husband, said the difference between golf in Europe and the United States is startling, with golf courses in France being much more women friendly.
"I think that's a problem with golf in the U.S.: There's a lot of guys that start golfing as kids and they tend to dominate the courses," said Hannigan, who still has some work to do before she breaks 100. "I was in France again recently, and they didn't have that attitude that pervades courses in the U.S. In France, you always see women golfing with men, where in the U.S. it's much more rare."
So Hannigan continues on her quest of not just making golf in the United States more open to women, but helping women see the fun and sexy parts of the game, whether through fashion, or just the joy of being out on the course. Hannigan said she has big plans for the future and plans to introduce a video podcast, amongst myriad other plans.
"I'll be doing a weekly videoblog and do tips about fashion, and how to make golf more fun," said Hannigan, who puts her age at "35-ish." "And we'll have wine tastings with wine that golfers, like Ernie Els, have. And I really want to do a line of golf products, as well."
Hannigan, an identical twin (she and sister Kathleen go by Pat and Kat, "our stage names," she says), is also looking to play golf in various eclectic locations around the world like Bolivia, and hopes to be playing golf in Dubai and the Middle East - as soon as she can get husband Nick to OK the trip.
And while Hannigan has big plans for her blog, in the end, she's just a Golf Girl who enjoys the game and the fashion that comes with it, and hopes that she can get other golf girls to come along for the ride.
"Despite the need to grow the golfing population and attract new players and fans, there still seems to be a strong contingent of golf purists who don't want to see change happen," Hannigan said. "However, Golf Girl's Diary has become really popular with both guys and girls, so there's something to be said for this approach."

July 31, 2007
William K. Wolfrum keeps one eye on the PGA Tour and another watching golf vacation hotspots and letting travelers in on the best place to vacation. You can follow him on Twitter @Wolfrum.