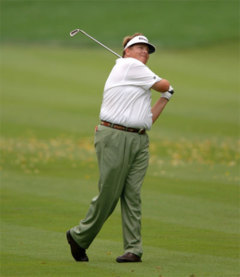 Who among us would not want to see Tim Herron tearing around the 18th green, holding a big trophy high over his jiggling torso? (PGA of America)
PGA Tour, missing Tiger Woods, needs to get radical to keep fans

By
Tim McDonald
,
Contributor
Natalie Gulbis, Donald Trump, Phil Mickelson, Hillary Clinton and Barack Obama can all do their part to keep the PGA Tour alive while Tiger Woods is out.
Everybody's in a dither about what the hell we do now that Tiger Woods is out of the picture.
It's as if golf will disappear from the earth without Tiger, even temporarily.
I happen to agree. I'm not even sure if it's worth it to go on living.
Still, we must plod on. This is when the PGA Tour marketers earn their bloated paychecks. First of all, they could take cues from other sports, which have long held the belief that to keep fans, they must first entertain them.
There are any number of existing ploys they could steal to keep the public interest:
• Pre-tournament rock shows. Post-tournament kick-boxing in which those who missed the cut fight for future exemptions.
• On-course tailgating. Ah, the sweet smell of barbecue wafting over the hallowed grounds of Winged Foot.
• Victory laps: Who among us would not want to see Tim Herron tearing around the 18th green, holding a big trophy high over his jiggling torso? As a bonus, we might find a new source of renewable energy.
• Bia-Golf, based on that crazy Olympic sport, the biathlon, that combines cross country skiing and rifle shooting.
Walk off the green, take a pot shot at a target likeness of Tim Finchem. Dick Cheney could turn pro.
• Portfolio competition: You add the four-round score to points given for a well-organized, high-return investment portfolio, as determined by H&R Block.
• Halftimes. Golf needs inspired speeches that become folklore. Not some insipid sponsor droning on about how great everything is and how pleased he is about how everything is so wonderful.
We need to hear Butch Harmon yelling at Phil Mickelson, slumped and whimpering on a chair in the locker room, head between his knees and sweating like a mule.
"Mickelson, you're a fat wimp! Now get out there and D-up!"
• Time-outs. See above.
• Substitutions. Pro golfers should have backups for when they're going bad. "Now entering for Ernie Els, deep in the rough on No. 14 ..."
• Call pace-of-play fouls. Golfers have to raise their hands.
• Dancing girls, obviously.
Push that envelope right outside the box!
The PGA Tour doesn't have to copy other sports, though. They can think "outside the box" and "push the envelope" and all those other clichés that prevent people from having original thoughts:
• Birdie-shots. Make a birdie, take a shot. Sponsored by Old Crow. I predict Fuzzy Zoeller shoots to the top of the money list.
• Disco!
• Animal sacrifice.
• They need to hold at least one PGA Tour tournament on a really, really bad golf course, like the rest of us sometimes play. I mean, like a crappy, 50-year-old, $10 muni, with weeds growing on the greens, huge bare patches in the fairways and cranky, old marshals with beer on their breath. I can make a few recommendations.
• Draw "the kids" into the game by making the golfers dress more "hip," instead of those same, drab, old, 1950s-era, button-down, Republican clothes. Picture Olin Browne in a do-rag.
• We all saw how successful the USGA was by pairing the world's top three players in the U.S. Open: Woods, Mickelson and Adam Scott. Follow this logical thread and make other interesting pairings.
Pair the really fast players, like Rory Sabbatini, with the really slow ones, like Jonathan Byrd. What better fun than watching steam come out of Sabbatini's ears?
Long hitters. Pair guys like Bubba Watson, J.B. Holmes and Dustin Johnson with little ballerinas like Corey Pavin, Fred Funk and Larry Mize. Put microphones in the gallery and pick up the snickers.
• The tour definitely needs new announcers, with some pizazz: Hillary and Obama, or I should say Obama and Hillary. Rush Limbaugh and Al Franken. Keith Olberman and Bill O'Reilly. Rosie O'Donnell and Donald Trump. Karl Rove and Terry McAuliff.
Time for the LPGA to step up?
There are those who say the LPGA can take up some of the slack. I doubt it, based on the hundreds of misogynistic comments many of the readers who respond to our blogs make.
But they have to try, because, seriously, what else are they good for? Suggestions:
• Replace Judy Rankin with someone who's alive.
• Natalie Gulbis: Can't we make those skirts just a tad shorter?
• Give Michelle Wie an exemption into every tournament. At least give people something to argue about.
• Disco!
July 7, 2008
Veteran golf writer Tim McDonald keeps one eye on the PGA Tour and another watching golf vacation hotspots and letting travelers in on the best place to vacation.