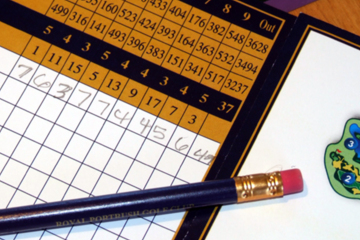 Sure the pencil is the best club in his bag. But there's an art to it. (Brandon Tucker/TravelGolf)
Tried and true ways to cheat on the golf course

By
Tim McDonald
,
Contributor
Yes, you've cheated on the golf course. You know you have. Don't even try to tell me you haven't.
Cheating is both science and art, and takes a man or woman of advanced intellect, without the loathsome burden of morals, to do it well.
I myself cheat at golf all the time - and have won a lot of money and lowered my handicap as a result. I've found the following methods to be efficient, if practiced:
• You've heard the expression "the pencil is the best club in his bag," usually uttered with quiet admiration. But, there's an art to it. For example, wait until your partner has a bad time on a long par-5, and you see him staring back at the hole after putting out, mentally calculating his strokes. He's vulnerable now - pounce. Take advantage of his despair and mental confusion.
You can sometimes even get away with a two-stroke cheat here. If he looks at your scorecard in disbelief, you can come back with: "You're thinking about yourself, partner. That was you who took two to get out of the rough. You must have been in the woods when I hit that 220-yard 5-iron on the green."
He may sulk, but he hasn't caught you. Not many people can remember that many strokes, especially if they're wrapped up in their own misery.
• If you're keeping score and have a bad hole, don't write anything down for a couple holes, then go back and write in a four when you actually had a five. Don't get too greedy and write four when you actually had a seven - your partners, being cheap civilians, remember your really bad holes and will call you on it.
• Improving your lie is a great way to cheat. In fact, I can't remember the last time I had a bad lie. Again, there's an art to this and you have to pick your spots.
If you're in the rough and you know you're probably going to have a bad lie, walk over to your ball while your partner is lining up his shot. Wait until he's about mid-swing and kick your ball to a better lie. He and the other players will be watching your partner's ball and most likely won't notice.
You might want to take a few practice kicks, kicking debris out of the way, so when you actually do kick your ball, they'll think you're still kicking junk out of the way. Practice this in front of a mirror.
• When faced with a bad lie, yell "fore" then move your ball to a nice, soft tuft of grass, sitting high and pretty, while your partners are cowering. Don't do this more than once a round.
As an alternative, pretend to bend over and pick a "pretty flower," then move your ball where you want it. Keep fresh daisies in your pocket.
• Mulligans. A lot of groups give themselves mulligans on the first tee if they didn't have a chance to warm up. This ruse can only be done if one of your partners actually uses his mulligan on the first tee and you don't.
Wait until you screw up later on, then nonchalantly say "mulligan time." When one of your goody two-shoes partners says "hey, mulligans on the first tee only," act offended and say, "Oh, I guess only certain people get mulligans - how do you live with yourself, man?"
• Keep a fake USGA rules book on you at all times. It can be a blank notebook, or a book of Hungarian recipes, but when in doubt, haul it out and make a ruling in your favor. "Dude, look - it says three club lengths, not one. It's right here, in black and white."
If somebody asks you to see it, again, look offended and say "It hurts you don't trust me, man. Look, I'll just do whatever you say." They may or may not call you on it, but you won't be any worse off than before.
• Throw off your rivals when they're putting. Again, be judicious and don't use this too much, only when there's money on the line. Make sure you're in his line of vision, without being obvious about it.
On his take-back, pretend you're swatting a wasp out of your face, just enough to get his attention. If somebody calls you a jerk, say, "Oh, I'm supposed to get stung? I'm allergic to insect bites, Mr. I-Don't-Care. I could die. Is that what you want?" You can stomp off for added effect, but use discretion.
I have a million of these. These are just a few, basic examples, a few hors d-oeuvres, to get you started. I plan to do a semi-occasional, when-I-feel-like-it series on the best ways to cheat on a golf course. Send suggestions if you want, because cheaters always prosper.

August 23, 2005
Veteran golf writer Tim McDonald keeps one eye on the PGA Tour and another watching golf vacation hotspots and letting travelers in on the best place to vacation.