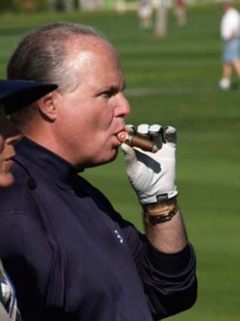 Rush Limbaugh likes to puff on a cigar while he golfs. (RushLimbaugh.com)
Golf-loving radio king Rush Limbaugh hits it right on Clooney, Clinton and Wie

By
Chris Baldwin
,
Contributor
LA QUINTA, Calif. - Justin Timberlake attracted the teeny boppers. Samuel L. Jackson had the light-saber-toting, mask-wearing Star Wars fans. Matthew McConaughey drew oohs and aahs from professional women and grandmothers alike.
All that, you'd expect at the Bob Hope Chrysler Classic.
What went largely unanticipated - especially by the other celebrities - is the love one Rush Limbaugh would receive.
His fans would never be mistaken for teeny boppers, but they employed some of the same techniques. They made colorful "We [HEART] Love Rush" posters and taped them to the sides of their homes overlooking the PGA West course where Limbaugh swung away.
They were graying, they had enough money to live on a golf course and they were in love.
They called out Limbaugh's name as he walked down the fairways, pleaded for autographs the way the others in the crowd screamed for the rock stars.
This should come as no surprise. To conservatives, Rush Limbaugh is a rock star. He's is the most listened-to radio talk-show host in the United States, has been for a long time and shows no sign of slowing down at age 55. His right-wing rants have made him one of the most powerful figures in American politics.
Still, people just don't expect to see him to be the subject of such sweet-homemade-sign devotion.
"They're cheering for him," one women in the gallery practically snarled.
If Limbaugh heard that, he probably would have smiled. And maybe called her a femi-nazi. Without taking the cigar out of his mouth.
Limbaugh can be a polarizing figure, but no one could call him a boring one. Whether he's railing against the Democrats, getting fired from ESPN for saying Donovan McNabb is overrated because he's black, admitting his addiction to prescription painkillers or not letting serious hearing loss keep him from being heard, Rush Limbaugh is never accused of being boring.
We caught up to Limbaugh in Palm Springs and found a man who wasn't afraid to joke about his hearing loss, display enough humility to shock any liberal critic or reveal a serious reverence for golf history. Unlike the radio Rush, this guy was sort of soft-spoken and reserved.
Though he did have some George Clooney and Michelle Wie issues. Wouldn't want to disappoint.
BadGolfer.com: When did you first really get into golf?
Rush Limbaugh: 1997. That's when I moved to Florida to, and I've said this before, escape New York state taxes. I also discovered golf thanks to some great friends.
BadGolfer.com: What are the strengths of your golf game?
Rush Limbaugh: Perseverance. Stubbornness. I was telling someone earlier, playing in these types of events - the Bob Hope or Pebble Beach, which I love and will be in - is a triumph of emotion over common sense for me.
I'm not all that good. I'm a 17 handicap. I can't drive the ball nearly as far as many of the other guys I'm playing against. Not talking about the PGA players. They're on an entirely different level from everyone. The celebrity athletes in the field. If Roger Clemens and Marcus Allen are hitting the ball 300 yards plus, I'm lucky to be getting it 245.
I'm not an athlete. I never kid myself. But it's just such a privilege to be out here.
BadGolfer.com: You've played golf with presidents. What's it like playing golf with Bush 41?
Rush Limbaugh: Tiring. He doesn't stop moving. The man's in incredible shape.
Both Bushes are into speed golf.
Bush Sr. wants to play a full 18 in two and half hours at most. In case you haven't noticed, I have not always been in the shape to do that comfortably.
BadGolfer.com: How much of a hard time would you give Bill Clinton on the golf course, with his reported endless mulligans and the like?
Rush Limbaugh: You know, Clinton is a different guy since he had that heart surgery. When you've had that type of major health event, you have to get a sense of your own mortality and start taking things more seriously.
BadGolfer.com: Rush Limbaugh, a Bill Clinton fan?
Rush Limbaugh: I like him a lot more now that he's not running the country, I can tell you that. It's good he's an ex-president.
BadGolfer.com Everyone asks you about crowds getting on you if you slice a shot to the left, etc. What's the worst you've heard from the gallery?
Rush Limbaugh: Well, I can't hear that stuff much anymore. [Smiles]
No, are you kidding? These people are great. They're not giving anyone a hard time out here. Palm Springs is a red town in a blue state. I love these people. They couldn't be more generous in spirit or kind.
This is my kind of town. Most of the people who don't like me are over there in Hollywood.
BadGolfer.com: What's your take on the Michelle Wie phenomenon?
Rush Limbaugh: It's a triumph of marketing. If she really wants to play with the men, it's fine. Let her try for a tour card. But now it's a marketing tool they're using to build her to up to a level much greater than her actual accomplishments. At some point, she has to get some wins.
I'm not sure if she's not being exploited. She's been put in some situations she's clearly not ready for. Do you think these PGA Tour guys really think she deserves to be a tournament with them? The political-correctness situation will just not allow them to say it.
BadGolfer.com: Vijay Singh said it at one point about Annika Sorenstam, saying she was talking a spot away from a deserving PGA Tour player. But he's since reversed that stance with Michelle Wie.
Rush Limbaugh: He learned like many people in our unfortunate society where political correctness is prized most. Vijay was honest and look what it got him. Attacked by a bunch of liberals and femi-nazis.
No professional athlete wants that. These guys are not trying to impact change on society. They want to sell some sneakers or golf clubs before their careers are over.
BadGolfer.com: Someone who's not afraid to be outspoken, George Clooney, has been in the news a lot lately, giving his political views, making Jack Abramoff jokes at the Golden Globes. Comedian George Lopez said that Clooney should keep quiet. What's Rush Limbaugh say?
Rush Limbaugh: Let him talk all he wants. All he is doing is alienating half the box office, or actually more than half if you look at how liberalism is dying in the U.S. It just shows his colossal ignorance. George Clooney is a rich guy who doesn't hold the slightest clue about how average Americans go about their daily lives.
BadGolfer.com: Who's your Republican candidate in 2008?
Rush Limbaugh: Right now I like George Allen. I anticipate the John McCain and Rudy Giuliani talk will die down in the end. But it's wide open. Republicans who win elections are conservatives, though.
March 22, 2006
Chris Baldwin keeps one eye on the PGA Tour and another watching golf vacation hotspots and letting travelers in on the best place to vacation.