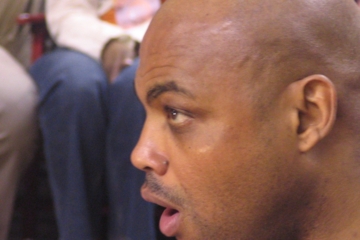 Charles Barkley insists he's retired from golf. (GolfPublisher.com)
NBA great (and pro loudmouth) Charles Barkley insists: "I've retired from golf"

By
Chris Baldwin
,
Contributor
TEMPE, Ariz. - Charles Barkley looks a little tired. His voice is a little hoarse. But if Charles Barkley is out in public, he knows he's got to be on.
This is the price of being the Round Mound of Rebound, one of the best players and, perhaps more important these days, most colorful personalities in NBA history. Barkley hasn't played pro basketball since 2000 and yet he remains one of its most identifiable figures, a TNT analyst who never minces words, holds back criticism or skimps on that unique Barkley banter.
Even when he's coaching a celebrity basketball game to raise funds for a hospital to combat AIDS in Africa. Even with NFL Pro Bowlers like Simeon Rice on the floor at Arizona State University's arena in Barkley's adopted home state, he is still the undisputed star - the one who, as local sports anchor and event organizer Gayle Jansen says, "Brings Arizona out."
So Barkley does his best to make jokes during the game. When a radio DJ on the public-address system asks if the game reminds him of his own playing days, Barkley shoots back, "No, I was much better than these guys." After the game he's one of the first guys at the autograph tables, cracking wise with the fans. His line stretches the longest.
Charles Barkley has become something of a golf ambassador in his post-playing days as well. One of the NBA's 50 Greatest Players of All Time - only the fourth man in league history to record more than 23,000 points, 15,000 rebounds and 4,000 assists - might be almost as well known these days for his putrid golf game.
He talked to TravelGolf.com about all the other celebrities ripping on his game (what were you thinking, Carson Daly?), analyzed the root of his driver yips and then announced his retirement from golf. That's right, the man with the ugliest swing in America - the even rounder mound of the links - insists he's quitting the game.
That doesn't mean he's going to stop talking about it, or anything else on his mind. Including why he thinks Terrell Owens was "100 percent wrong" and the reason he might have needed his own Al Cowlings.
The sports rebel who once responded to being sued for throwing a guy out of a ground-floor barroom window by saying, "I regret we weren't on a higher floor," is a little more subdued these days. But that doesn't means Barkley's hitting the mute button.
Far from it.
Q: What do you think when you hear all these other celebrities mocking your golf game? Whenever you ask a celebrity who the worst celebrity golfer is, it's always your name coming up.
A: It doesn't bother me. I can take a joke. That's what wrong with a lot of people these days. Nobody can take a joke anymore. Besides, my game's not good right now. If they make it funny, I'll laugh. What am I going to say, "I don't stink"? I do stink.
Q: Carson Daly, though? He told me that your swing's nasty.
A: I like Carson. He's a nice kid. And he can play a little. But when he gets a show that's not on at 2 in the morning, he can start talking about me. Who's watching his show? Security guards and nerds who can't get a date. Really, who's he think is watching? I think it's bad when a doubleheader's lousy [on TNT] and we come on at 1. That's Carson Daly every night.
Carson. Come on.
Q: What's the state of your game right now?
A: It's not good. It's not good at all. I've retired from golf. It just got too frustrating. I don't play anymore.
Q: Not even with Tiger Woods and Michael Jordan?
A: I'll play with Tiger and Michael. I'm not going to stop playing with my friends. I'll hit it around with Tiger and Michael. Not in front of other people, though.
Q: So this is sort of a boxer's retirement?
A: It's a don't-hit-no-more-people retirement. I get in those celebrity tournaments and I'm hitting some old lady in the crowd. I'm rich, man. I can't be hitting people. It's a liability issue. Especially with all these white people in the crowd at golf tournaments. I can see the headlines: "Charles Barkley kills white dude with a golf ball." I don't need to be looking for my Al Cowlings. [Fellow TNT studio analyst] Kenny Smith and I aren't that close.
Seriously, I hit too many people.
Q: You've put a voice to the driver yips for a lot of golfers. How did it start for you?
A: With a bad lesson. Some teacher who's glad I can't remember his name told me to stop at the top of my swing to help with balance. Now I can't stop stopping. It's a whole hesitation thing.
Q: Like Shaq at the free-throw line?
A: Just as butt-ugly. Why are we talking about golf? I told you I'm retired. [Laughs]
Q: All right, moving on to the NBA. You still live in Phoenix. What are your impressions of the Suns?
A: They're a good team. Steve Nash should be the MVP for the way they've played. That's the one Canadian who can play basketball.
Q: Can they beat the Spurs?
A: No.
Q: How about with Amare Stoudemire back?
A: They had Amare last year, didn't they? The Spurs still beat them. Phoenix will never be able to handle the Spurs' rebounding.
The Spurs play the Suns differently than any other team. They actually have a plan. Most teams just go in and try to play with Phoenix. [Spurs All-Star point guard] Tony Parker said something interesting the other night on our show. He talked about how they try to keep Phoenix's possessions down. That was very interesting. The Spurs are thinking. They know how they want to play the Suns. They have a plan for them.
I thought that said a lot about why they can beat Phoenix and all these other teams are having trouble with them.
Q: You were one of the controversial figures in sports. Now there's Terrell Owens, who's taken it to new heights, getting a big contract with the Cowboys. Is that going to work?
A: Don't lump me in with TO. I like TO. I really do. What he did? TO was wrong.
Donovan McNabb is a great person, a great player in that league. TO was 100 percent wrong to do what he did. He's going to help the Cowboys win, though. I like TO
Q: TNT used you in their PGA Championship coverage last year. Do you see more golf commentating in your future?
A: I'll talk about anything they pay me to talk about. Why am I talking to you? Where's my check?

May 18, 2006
Chris Baldwin keeps one eye on the PGA Tour and another watching golf vacation hotspots and letting travelers in on the best place to vacation.