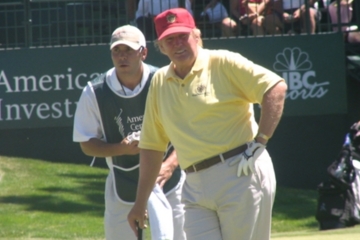 Donald Trump: Would developing an entire state satisfy his golf jones? (Chris Baldwin/GolfPublisher.com)
Donald Trump announces plans to buy New Mexico, turn it into golf resort

William K. Wolfrum
,
Contributor
ALBUQUERQUE - At a wild press conference here, entrepreneur Donald Trump announced plans to buy New Mexico and replace it with a sprawling golf resort he intends to call "Trump Southwest."
Trump, who rode to the press conference on a white stallion and wearing a hair net, told the gathering of reporters that his plans would not just lead to the creation of the universe's greatest golf resort but also save the nation from the scourge of illegal immigration.
"We'll have private security at Trump Southwest and very likely allow them to carry firearms," Trump said. "And if anyone gets past them, we'll hire them. We've been in talks with NBC to make the border issues Trump Southwest will face into a reality show."
A source close to Trump said the show had the working title Trump Trek: Work or Die. An NBC spokesman declined to comment.
The famed developer of Atlantic City casinos and Manhattan skyscrapers already owns six golf courses, including Trump National Golf Club near Los Angeles, a track so spectacular that TravelGolf.com writer Chris Baldwin ranked it No. 11 in his list of the Southern California's top 10 golf courses.
The purchase of New Mexico continues Trump's recent business strategy of buying up golf properties in areas where no one would even consider visiting, a la his recent acquisition of "Trump Fresno." "The Donald" said he hopes to lure Tiger Woods into the project as a designer and investor.
The sale price for New Mexico was not announced, but Trump said he expects the cost of developing the state into Trump Southwest at about $200 billion.
"People aren't truly aware of the beauty that is New Mexico," Trump said. "It's unbelievable here. And dry. My sinuses are clear enough to drive a truck through."
While numerous hurdles remain before Trump can claim ownership of the state, New Mexico governor Bill Richardson said that, after consulting with mentor and former boss Henry Kissinger, he is behind the deal.
"Henry and I agree that there are few better things you can do for an area than strip away every last bit of its culture and stick a golf course in the middle of it all," said Richardson, who went on to promote an upcoming $10-a-head campaign fund-raising dinner at a Los Alamos Arby's. "We look at Vietnam as the perfect example of what can happen here."
Nonetheless, there are those who oppose the plan, notably everyone in Arizona. While details of Trump's plans remain sketchy, part of his proposal includes lining all the borders of Trump Southwest with 12-foot ficus trees. On top of the trees will be razor wire, with snipers hiding in random trees, as per the deal with NBC.
"It seems a little excessive," said 64-year-old Marge Hanson, a retired schoolteacher in Tucson. "Plus it ruins our view."
But few New Mexicans have out against the proposed mega-resort, nor do they seem overly concerned about the plans.
"New Mexicans live a long time," said Benjamin George, an 85-year-old laborer from Albuquerque. "None of you has ever seen a dead New Mexican."
Shares of Trump Entertainment Resorts Inc. fell sharply in afternoon trading.

July 23, 2007
William K. Wolfrum keeps one eye on the PGA Tour and another watching golf vacation hotspots and letting travelers in on the best place to vacation. You can follow him on Twitter @Wolfrum.