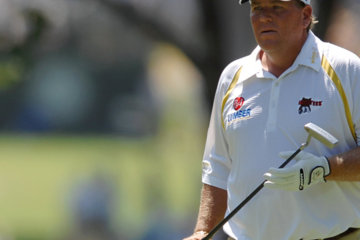 John Daly spent yesterday doing, well, not much. (Courtesy PGA of America)
John Daly shocks, angers golf fans by not overindulging for an entire day

William K. Wolfrum
,
Contributor
DARNADELLE, Ark. - PGA Tour star John Daly apparently did not overindulge in any way yesterday, according to several stunned witnesses.
Known for his erratic behavior and gambling, drinking and smoking habits, Daly had an uneventful day yesterday and then stayed home last night according to several insiders. Daly reportedly was in bed by 10 p.m.
"This is really shocking, even for John," said Tabitha Andrews, a longtime fan of Daly's. "We've all come to expect so much more from him.
Daly - who is fat - reportedly awoke a 9 a.m. and hit some golf balls for nearly an hour at a local driving range and then stopped at a local restaurant afterward. Mike O'Conner, a waiter at Jake's Café in Darnadelle, held a press conference earlier today to discuss what Daly ate during his visit.
"When he came in, we were all sure all hell would break lose and that John would order everything on the menu and drink tequila non-stop," said O'Conner. "But he just had a couple eggs, hash browns, toast and coffee and then he left. It was really a disappointment; it's like we all pulled out our cell phone cams for nothing."
Video taken by O'Conner showed Daly calmly sitting in a booth, ordering his food, reading the newspaper while he awaited the food, eating the food in a calm manner, getting up and leaving. O'Conner said Daly tipped him 27 percent of the total bill and was cordial.
"Seriously, what a jerk," said O'Connor. "I really expected fireworks, or at very least, for him to take his shirt off or something."
Daly ran some errands later, according to witnesses. He picked up laundry at a local laundromat, and then stopped at a convenience store, where store owner Jeb O'Shea said he bought a small amount of beef jerky, a small bag of Skittles and a pack of Marlboros.
"When he bought those Marlboros, I was sure he was just going to smoke them all and go crazy," said O'Shea. "But he just made a joke that he was trying to cut down, paid and left. It's like you wouldn't even know the guy."
While most are convinced that Daly spent yesterday quietly, there is a five-hour period in which his whereabouts are unknown. Jeremy Gustufson, a 17-year-old riding a skateboard near the newsroom, said it was very possible that Daly spent that time drinking, gambling and visiting prostitutes.
"Party!!!!" said Gustufson, who admitted that his skateboard was "shredded" due to an earlier incident that he would not elaborate on. "Big John! He digs the booze, baby. He's crazy, man, wild crazy ... Prostitutes! Party!!!!"
Nonetheless, Daly returned home at 6 p.m. According to Sarah Degeneres, Darnadelle's resident paparazzi, Daly apparently did little that would excite either his friends or the media.
"I was staring in his window most the night," said Degeneres, who also takes photos at children's birthday parties. "I saw him drink one beer. Seriously, just one. And then it looked like he had a sensible dinner, watched two reruns of 'Friends' on TV and then went to bed at about 9:45 p.m."
Degeneres had no other info on Daly, despite rifling through his trash for more than an hour.
While the local and national media have reported profound disappointment at Daly's lack of antics, Degeneres said she expects Daly to quickly bounce back to form.
"He's a crazy man, seriously," said Degeneres. "We haven't seen the last of him, trust me. I left a full bottle of Jack Daniels and the number to a bookie in his mailbox, just in case. I think tomorrow Big John will bounce back, and then we'll again see what an out-of-control headcase he is."
April 1, 2008
William K. Wolfrum keeps one eye on the PGA Tour and another watching golf vacation hotspots and letting travelers in on the best place to vacation. You can follow him on Twitter @Wolfrum.