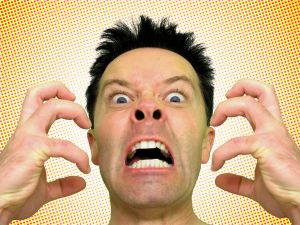 Face it, when your golf game goes to hell, sometimes nothin' or nobody can help you. (Courtesy Bob Smith)
When you're playing truly bad golf, even Jesus can't help you

By
Tim McDonald
,
Contributor
This is the ultimate story for BadGolfer.com, though there ain't a damn thing funny about it.
I'm playing bad. Even my grammar is bad. I think it should be, "I'm playing badly."
Who the hell cares? When you're playing bad golf, things like grammar, love, sex, and the meaning of life mean nothing. Less than nothing.
When your golf swing has gone to hell, you're grouchy, rude and often incontinent. You hate everything and everybody. I hate you right now, even though I've never met you. I'm sure if I met you, I'd hate you.
"I think the hardest thing about this sport is you're out there by yourself. If you get it going sideways, bad, the only one to bail you out is yourself. When you're playing great, it's a great game. When you're playing bad, it's a lonely world out there."

- Tiger Woods
My golf world is lonely right now because I'm continually cursing and screwing up my face into an unsightly contortion, like a Maori war mask. Good behavior, for me right now, is sulking and bottling up my hatred for life inside. You don't want to be my partner.
It's the driver. The driver has always been the best club in my bag, the only club I could depend on. I hit it long and straight, with a slight draw.
I mean to say: I used to hit it long and straight, with a slight draw. Now, I hit it short and stupid with a hook the size of the Florida Panhandle.
Playing bad is bad enough, but when it comes on the direct heels of an extended period of playing good - or is it "playing well"? - ah hell, anyway it makes it worse.
"Whenever you're playing well, you just try to ride it out, and when you're playing bad, you just try to ride it out. That's the funny thing about this game is that you're going to have your good spurts and you're going to have your bad spurts."

- Sean O'Hair
Sean O'Hair is an idiot. I don't want to ride this out. It's already lasted longer than the Pleistocene era. I have to fix this thing. It's killing me.
"Everybody thinks they know everything when you're playing bad. They're trying to help you out, but at the end of the day it just does you harm, really."

- Derek Gillespie, Canadian pro
Ain't that the truth. Derek Gillespie is one of the few people I don't hate right now, though I don't particularly like him.
Everybody's got a tip. Sometimes, I ask for help, when my ego has shrunk to the size of a field pea and my desperation is written all over me like a garish tattoo.
Other tips come unbidden. My colleague Brandon Tucker told me I was playing the ball too far back in my stance. This was right after I had moved the ball further back in my stance in the forlorn belief it might help.
I moved it up. It didn't help. I hate Brandon Tucker. Especially since he played so good. So well.
Another guy, from New Jersey wouldn't you know, gave me a tip, I forget what it was, but it was stupid and even though it was stupid I tried it and not only did it not work, it made it worse. I gave him the silent treatment and he made a lame apology, which prevented me from killing both he and his wife on the spot.
Other guys, other tips. More hooks. I think at one point even a woman gave me a tip, that's how low I've sunk. More murderous fantasies involving decapitation and illegal confinement.
I know, I know, hooks usually come from coming at the ball too far from the inside. You think I don't know that? You think I'm some kind of retard? I've started the clubhead so far outside I almost whack myself in the ankle on my follow-through.
Good Lord, I've even tried back issues of Golf Digest and the Internet, looking for something - anything - that might give me a semblance of a clue. I tried all the guys with big names, like David Leadbetter, Jim McLean and that crowd, but they're mostly just craven profiteers trying to sell some kind of idiotic and expensive swing aid, and it just further enrages me.
My golf life is lonely right now. I know this is something I must solve on my own. This is a quest. Only I can do it, not Brandon Tucker, David Leadbetter or Jesus Our Savior.
I'm going to interrupt this story right now, go out to the driving range and try to fix this once and for all. If I do, you'll read about it in the next paragraph. If I don't, the next paragraph will be blank, which means I will have committed suicide or a felony, one.
October 25, 2007
Veteran golf writer Tim McDonald keeps one eye on the PGA Tour and another watching golf vacation hotspots and letting travelers in on the best place to vacation.