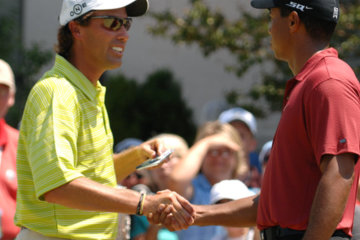 On the first tee Sunday, Stephen Ames congratulates Tiger Woods on winning the PGA Championship. (Courtesy PGA of America)
With PGA victory, Tiger Woods again proves to be what Golfer Supremacy Rankings are about

By
William K. Wolfrum
,
Contributor
Sometimes, things here at the Golfer Supremacy Rankings can get too easy. Like on days when Tiger Woods exists. Because even in a rankings system where the normal rules don't apply, most of the time it's just impossible not to rank the talented Mr. Woods as the world's most supreme golfer.
And trust, us, we looked for other contenders. We were truly hoping that Stephen Ames would come out and say that his final round of 76 was somehow taken "out of context" by reporters bent on destroying him. Or that John Daly would require a Schlitz transfusion during Round 3.
But we got nothing. Nothing except Tiger taming the field. We can live with that, however. Because nothing says golf supremacy like Tiger Woods strutting on down the 18th fairway of a major with victory in hand.
Golfer Supremacy Rankings
1. Tiger Woods
Comments: If there ever was a tournament where picking Woods to win was a no-brainer, it was the 89th PGA Championship. He was coming in off a victory, had time to come to grips with fatherhood, and was sans a major in 2007. There were but a couple moments of shakiness on Sunday, but the writing was clearly on the wall - Tiger was not to be denied. Now, with 13 majors to his credit and another PGA Player of the Year award in hand, he can kick back and enjoy himself as he figures out how to spend the $10 million he'll get for winning the FedEx Cup.
2. Phil Mickelson
Comments: Score a big one for Lefty! His final-round 69 showed that he's ready to rejoin the battle as one of the middle-of-the-road golfers on the PGA Tour. Sure, a few years ago we were thrilled to see Phil winning three of seven majors. But that was then, this is now. These days, finishing tied for 32nd in a major is a triumph. Mark our words, at this pace, Mickelson will go down in the history books alongside the other "pretty goods" of the day like Heath Slocum, Steve Flesch, and Joe Durant. Because, remember folks, with Mickelson, it's all about perspective. And his perspective currently is that he was hurt, so write off 2007.
3. Catriona Matthew
Comment: Matthew won the Scandinavian TPC, shooting a 4-under 68 to beat Laura Diaz and Sophie Gustafson by three shots. That's about all we got on her. Oh, there's no "s" at the end of her last name. Just keep that in mind if you decide to write about her. But seriously, we can't squeeze an ounce of funny out of her, so we'll just send off a quick "atta girl" and move on.
4. John Daly
Comments: John Daly, a shining beacon to those with gambling problems everywhere, finished 32nd at the PGA Championship during a week where he spent as much time at the casino as he did at the practice facilities. More than anything, however, the fact that Big John actually finished four rounds in the blistering Tulsa heat is a victory on par with Tiger's.
Random Golf Financial News: The New York Times has run a story noting the connection between Bear Stearns chief executive James E. Cayne's golf game, and the wild swings of the stock prices of his company. Basically, the better Cayne plays, the worse the stock does. With this type of financial analysis by U.S. traders, one thing is clear - a new Depression is about eight minutes, or a string of Cayne birdies, away.

August 13, 2007
William K. Wolfrum keeps one eye on the PGA Tour and another watching golf vacation hotspots and letting travelers in on the best place to vacation. You can follow him on Twitter @Wolfrum.